Official: New dynamic in N. Korea nuke talks
(Agencies)
Updated: 2005-03-03 08:49
China's top nuclear negotiator said Wednesday there was a new dynamic in talks to end North Korea's nuclear ambitions.
Vice Foreign Minister Wu Dawei was speaking as he met South Korean Foreign Minister Ban Ki-moon in Seoul, part of intensive efforts by regional powers to coax Pyongyang back to the table.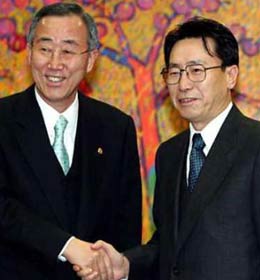 South Korean Foreign Minister Ban Ki-moon (L) greets Chinese Vice Foreign Minister Wu Dawei in Seoul March 2, 2005. Top Chinese nuclear negotiator Wu arrived in Seoul on Wednesday as five countries involved in talks to end North Korea's nuclear ambitions step up diplomatic efforts to bring Pyongyang back to the table. [Reuters]
"Since there is a new change to the situation now, (Foreign Minister Li Zhaoxing) sent me to exchange views with the South Koreans," the Chinese envoy said.
A Seoul official briefing South Korean reporters said the change referred to an apparent softening of North Korean rhetoric regarding its refusal to return to talks.
North Korea said publicly for the first time on Feb. 10 it had atomic weapons and was suspending indefinitely participation in the six-way disarmament talks with South Korea, China, Russia, the United States and Japan.
"South Korea and China have come to the recognition that what North Korea spoke about during Wang Jiarui's visit to the North was not preconditions but the necessary atmosphere in reopening the talks at an early time," the official was quoted as saying by South Korea's Yonhap news agency.
Wang is the head of Chinese Communist Party's international liaison department. He met North Korean leader Kim Jong-il last week during a visit to Pyongyang.
North Korea issued a statement Wednesday demanding an apology from the United States for labeling it as one of the "outposts of tyranny."
But the foreign ministry memorandum also said it would return to the talks "any time" if the United States took a sincere attitude and created the right conditions.
The United States accused Pyongyang of using a perceived threat from Washington to stall talks, saying President Bush has said he has no intention of attacking North Korea.
"One of North Korea's excuses for not returning to the talks is an alleged 'hostile U.S. policy,"' U.S. ambassador Jackie Sanders said in the text of a speech delivered to the U.N. nuclear watchdog's (IAEA) board of governors Wednesday.
"The president of the United States has said that we have no intention of attacking or invading North Korea," she said.
"We are ready to return to the six-party talks at an early date without preconditions, and hope North Korea will reconsider its Feb. 10 statement and do the same," Sanders said.
NEW URGENCY
Kim also told Wang that his country would return to the talks under the right conditions and his comments were regarded as a retreat from the Feb. 10 announcement.
Wu held talks Wednesday with Ban and Deputy Minister Song Min-soon, Seoul's top negotiator for the nuclear talks.
"There is an urgent sense in our minds that, through cooperation between South Korea and China, we should resolve this issue at an early time," Ban told Wu.
Earlier, Ban had said the countries would do everything diplomatically possible to bring the North back to the table.
"There will be comprehensive discussions on what is necessary to create the atmosphere, and how we can send the message to North Korea," Ban told reporters.
He said the North had been set no deadline to resume negotiations, but he urged Pyongyang to make a strategic move in its own interest by returning to dialogue soon.
Three inconclusive rounds of he six-way talks have been held. A fourth round planned for late last year never materialized.
Song will visit Moscow next week for consultations with Russia, and Secretary of State Condoleezza Rice will visit Asia later this month for discussions that would move the six-party process forward, Ban said.
China has been hosting the six-party process. South Korea, Japan and the United States have urged China to use its influence with the North to get things moving again.
The three allies said the six-party format could be used to discuss a wide array of issues of concern to Pyongyang. One issue is its demand for direct talks with the United States, something that the three negotiators suggested could take place on the sidelines of the broader talks -- as has happened before.
Today's Top News
Top World News

Anti-secession law "won't" harm Straits ties




Owners forced to fund mine safety upgrading




Food police to watch over dinner tables




Airlines take flak over poor ground services




Official: New dynamic in N. Korea nuke talks




Survey shows most Chinese respect America