Judge in Saddam tribunal shot dead
(Agencies)
Updated: 2005-03-02 21:09
Gunmen in Baghdad shot and killed a judge working for the Iraqi special tribunal set up to try Saddam Hussein and his top lieutenants, Interior Ministry officials said Wednesday.
Amid a deteriorating security crisis, Judge Barawiz Mahmoud and his son, who worked as a lawyer, were shot dead as they left their home in northern Baghdad Tuesday.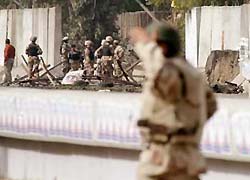 An Iraqi soldier gestures in the foreground as others work at the scene of a car bomb explosion outside an Iraqi army recruiting center in southern Baghdad March 2, 2005. [Reuters]

Mahmoud's other son Maryon said he believed the attack was politically motivated because his father was seeking to bring to justice Saddam and former members of his Baath party.

"I was sleeping and I heard shooting. I came out and saw blood running from my father's neck. My father was shot twice and my brother 11 times," he said near the scene of the shootings. A female relative wailed inside the home.

"We knew this was coming because of my father's work. He and my brother died holding their heads up high. This gives me comfort."

It was the first assassination of a member of the special tribunal, which includes around 50 trial judges, investigating magistrates, prosecutors and appeals court judges.

Police said they were investigating the deaths. Elsewhere in Baghdad insurgents targeted the military. Two car bombs in the capital killed 13 Iraqi soldiers and wounded dozens in the latest attacks on security forces.

One of blasts was outside an Iraqi army base used as a recruitment center. Six soldiers were killed and 38 people were wounded, police said. A second car bomb targeted a convoy of Iraqi soldiers, killing seven and wounding two, said police.

BOMBERS TARGET POLICE AND SOLDIERS

Guerrillas fighting to overthrow the U.S.-backed government have repeatedly attacked Iraqi police and soldiers, as well as people queuing up to recruit in the security forces.

Monday, a suicide bombing, claimed by the group of Iraq's al Qaeda leader Abu Musab al-Zarqawi, killed 125 people -- the deadliest single attack since Saddam's overthrow.

The judge's killing came a day after the tribunal referred its first charges against defendants, saying it had enough evidence to put five former Baath party officials on trial, including Saddam's half brother Barzan Ibrahim al-Hassan al-Tikriti and former Deputy Prime Minister Taha Yasin Ramadan.

The trial is not expected to begin for at least another seven weeks. Saddam, who briefly appeared before a judge last July, is expected to be tried next year on war crimes charges.

Iraqi officials involved with the special tribunal say they hope the trials of Saddam's top deputies will help build a case against the former dictator, captured in December 2003.

A member of Saddam's defense team said Wednesday the United States may be restricting access to his client for fear Saddam's comments could bolster support for him in the Arab world.

HUNTING ZARQAWI

General John Abizaid, head of U.S. Central Command, told the Senate Armed Services Committee that improved Iraqi intelligence sources and "treason within his own organization" had led to successes against Zarqawi.

"His days in Iraq are numbered," Abizaid said.

He said that on Iraq's election day on Jan. 30, when Zarqawi sent suicide bombers to attack polling stations, only around 3,500 insurgents took part in efforts to disrupt the poll.

"And we say to ourselves: 'Why didn't they put more people in the field? Where were they?' They threw their whole force at us, we think, and yet they were unable to disrupt the elections because people wanted to vote," Abizaid said.

He said the number of insurgents was falling because of Iraq's progress toward democracy.

"I think that the voting in Iraq, the political process that's going on in Iraq, the fact that people of moderate disposition have a chance for a better future, have driven those numbers down," Abizaid said.

An alliance of mainly Shi'ite Islamist candidates won by far the most votes in the elections, confirming the political dominance of the Shi'ite majority after decades of oppression under Saddam's Sunni-dominated government.

Many Sunni Arabs boycotted the polls or were too afraid to vote, and the 20 percent Sunni Arab minority has little representation in Iraq's new parliament, sparking concerns that sectarian tensions will fuel violence.




Today's Top News
Top World News

Anti-secession law "won't" harm Straits ties




Owners forced to fund mine safety upgrading




Food police to watch over dinner tables




Airlines take flak over poor ground services




Official: New dynamic in N. Korea nuke talks




Survey shows most Chinese respect America