Shanghai sees more unmarried young mothers
(Shanghai Star)
Updated: 2005-03-02 16:17
A 16-year-old girl gave birth in a toilet at Shanghai No 6 Hospital on February 20. After receiving treatment, both the young mother and the baby were in good condition, the Xinmin Evening News reported.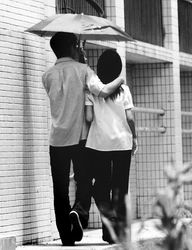 Love at a young age is not a rare phenomena in China nowadays. [China Daily/file]

Earlier that day, the girl had been taken by her mother to the hospital for what the mother believed was a stomach ailment. When the nurse asked if the girl was pregnant, the mother said she was only 16 and not married.

When the girl went to the toilet, a female baby was born suddenly.

A doctor told the Shanghai Youth Daily that a hospital worker had to be assigned to guard the baby after the girl's mother put the baby in a plastic bag and planned to throw it away.

"We definitely won't keep the baby," the mother said. "Relatives will laugh at us. How could we live there any longer!"

The girl, believed to be from Jiangsu Province, came with her parents to work in Shanghai several years ago. She did not reveal the cause of her pregnancy to the media.

Sources with the city's Family Planing Direction Institute said in the past month, over 20 pregnant girls under 19 years old had sought counselling or abortions.

Over 80 per cent of young girls under 19 don't know what to do after having unprotected sex, according to a survey launched by the institute.





| | |
| --- | --- |
| | |
| Faye Wong, Li Yapeng 'tie the knot' | |

| | |
| --- | --- |
| | |
| Mian Mian reaches maturity with 'Panda Sex' | |

| | |
| --- | --- |
| | |
| Joan Chen to direct Shanghai film | |
Today's Top News
Top Life News

Anti-secession law "won't" harm Straits ties




Owners forced to fund mine safety upgrading




Food police to watch over dinner tables




Airlines take flak over poor ground services




Official: new dynamic in N. Korea nuke talks




Survey shows most Chinese respect America