More than half believe US containing China
Freeman Chinadaily.com.cn Updated: 2005-03-02 14:52
More than half of Chinese said the United States government is containing China, while 66.1 per cent said they liked American people, a recent survey showed.
The survey, done by Beijing-based Global Times in cooperation with the Chinese Academy of Social Sciences, found that 49.2 per cent of the responders consider the United States a competitor, and 60.5 per cent said that how to resolve the Taiwan issue will definitely influence Sino-US bilateral relations.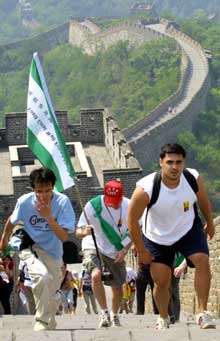 Chinese and American youths scale the Great Wall in Beijing in the Sino-American Youth Great Wall Friendship Relay in this June 3, 2004 file photo. A recent survey found that more half of Chinse believe the US government is trying to contain China. [newsphoto]

By picking 1,175 persons in Beijing, Shanghai, Guangzhou, Chongqing and Wuhan, five of China¡¯s biggest metropolises, the survey found only 10.4 per cent considering Washington a friendly government, and 56.7 per cent saying it is trying to contain China¡¯s development.

Asked why ¡°you do not like the United State government¡±, 37.6 per cent said that Washington supported Taiwan regime by selling it weapons, 31.7 per cent said Bush administration launched the Iraqi war under false claims, and 7.9 per cent based their dislike on increasing military ties between the United States and Japan, which till today refused to apologize to the Chinese people for the enormous hurt it inflicted on China during WWII.

And, 45.0 per cent anticipated status quo of bilateral ties during the 2nd Bush term, while 29.4 per cent said that the relations will improve. Those expecting worsening relations account for 11.7 per cent.

More than 46 per cent said that growing economic links in the past years has helped political exchange and promoted friendship between the two peoples. Those who admire or accept American culture make up 59.4 per cent.

Up to 41.2% of the responders said that China and the United State could possibly enter into hostility and conflict because of Taiwan in the future.

Yan Xuetong, a foreign policy expert with Beijing¡¯s Qinghua University, said in an interview that the survey results proved his long-time belief that although the majority of Chinese do not like Washington government, because of its unfriendly China policy, they like American people and appreciate American culture.

¡°It¡¯s a blend of love and hatred,¡± Yan said.

Tao Wendao, another foreign policy expert with the Chinese Academy of Social Sciences, shared the same belief. He said that American people are also divided on China. A survey by CNN and the USA Today, in September 2003, showed that 9 per cent of Americans consider China an ally, while more than 40 per cent consider China a potential enemy.

That¡¯s why the joggling of engagement and containment (of China) is going on in Washington, Tao said.

Professor Yan Xuetong said that Chinese holds clear-cut different attitudes of American people, American society and American government. The major factor of Chinese people¡¯s discontent with the United States government is Washington¡¯s foreign policy, especially, its selling weapons to Taiwan.