EU faces united US opposition to arms sales
(Agencies)
Updated: 2005-03-02 10:10
U.S. congressional leaders said on Tuesday the European Union would face united American opposition -- and possible penalties -- for pushing ahead with plans to lift a 15-year-old ban on arms sales to China.
After US President Bush briefed them on last week's fence-mending talks with European leaders, the top Republicans and Democrats on the Senate Foreign Relations Committee warned that trans-Atlantic cooperation on a wide-range of military projects, including the Joint Strike Fighter, were at stake.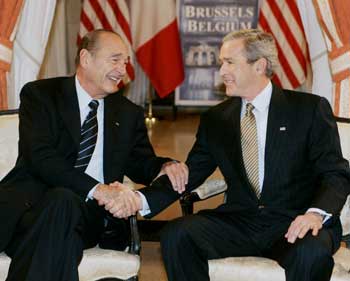 French President Jacques Chirac (L) greets U.S. President George W. Bush in Brussels, February 21, 2005. Bush met with Chirac for a dinner on Monday during his four-day visit to Europe. [Reuters]
"They (EU members) can anticipate a united front -- of president and Congress -- indicating this is not in the interests of Europe, it's not in the best interests of China for that matter," Senate Foreign Relations Committee Chairman Richard Lugar, an Indiana Republican, told reporters.
Sen. Joseph Biden of Delaware, the committee's ranking Democrat, declared the EU plan "a nonstarter."
"It hurts across the board," Biden said. "At the very time Europe understands they need us, and we seem to have a new recognition that we're better off if they're with us, this is a very bad play on their part."
In talks with European leaders last week, Bush cited Washington's "deep concern" that lifting the ban on arms sales would undercut the balance of military power between the Chinese mainland and Taiwan.
The 25-nation European Union has sought to soothe America's concerns by stressing that a voluntary code of conduct on EU arms exports is being updated.
Bush said last week that he would review these safeguards. But the lawmakers brushed aside assurances from British Foreign Secretary Jack Straw and others about new safeguards.
"We just simply wonder, why now? What is the purpose of this? And what do they hope to achieve with the Chinese diplomatically? There are no good answers to this," said Lugar.
"We'll listen. I'll listen," said Biden. "But I tell you what, I can't quite see how it makes any sense at this point."
Allen singled out cooperation on the Joint Strike Fighter, warning that the program with eight major international partners could be scaled back.
"In the event that they do this, we're not going to want that technology going to (China), not only because of the worry what they may do with it, but also who they may transfer that technology to," he said.
A nonbinding resolution approved by the U.S. House of Representatives urged EU leaders to maintain the arms embargo. The motion, passed by a vote of 411-3, said lifting the embargo would "place European security policy in direct conflict with United States security interests."
Today's Top News
Top World News

Hu to address Fortune global forum in Beijing




Beijing seeks best of the best for Olympics




Ease of incorporating opens doors




Foreign agencies to issue renminbi bonds




Access widened for Taiwan farm goods




EU faces united US opposition to arms sales