Marriage in trouble? Gwyneth Paltrow denies
(Agencies)
Updated: 2005-03-02 09:14
"Emma" star Gwyneth Paltrow has scotched rumours that her fairytale marriage to music band Coldplay's frontman Chris Martin is on the rocks.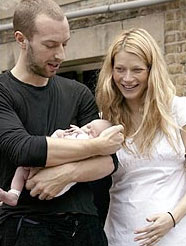 Gwyneth Paltrow and Chris Martin with their baby [AP]

"Chris has been with Gwyneth this whole time in New York while mixing the Coldplay album," Paltrow's rep Stephen Huvane was quoted as saying by the New York Post. "They are extremely happy together," according to Huvane.

Reports had earlier stated that the couple were going through "an incredibly rough patch" after only 14-months--the pressure of combining their successful careers, marriage and parenthood is tearing them apart.

The couple have shared a series of blazing rows as they spend more and more time apart--the Coldplay singer has been working on his band's highly anticipated but delayed third album, while the Oscar-winning actress has been left at home in London looking after their eight-month-old daughter Apple.

Tensions between Paltrow and Martin recently boiled over at New York restaurant Next Door at Nobu--which has a no reservation policy--as they waited for a table.

The row only came to a close when the Shakespeare in Love beauty stormed out and waited in their car--but Martin defiantly waited for a table.

An onlooker says, "The argument began about the table, but turned into more personal things."

"Adjusting to married life, then being parents and now trying to sort out their professional lives has been a lot more difficult and complicated than either of them imagined," a friend was quoted as saying.




| | |
| --- | --- |
| | |
| Mian Mian reaches maturity with 'Panda Sex' | |

| | |
| --- | --- |
| | |
| Joan Chen to direct Shanghai film | |

| | |
| --- | --- |
| | |
| Academy Awards in Hollywood | |
Today's Top News
Top Life News

President Hu to address Beijing Fortune global forum




Beijing seeks best of the best for Olympics




Ease of incorporating opens doors




Foreign agencies to issue renminbi bonds




Access widened for Taiwan farm goods




French hostage in Iraq pleads for help