1.61 million couples break up in 2004
By Wang Ying and Di Fang (China Daily)
Updated: 2005-03-02 06:26
More than 1.61 million couples called it quits last year on the Chinese mainland, up 21.2 per cent from the previous year.
Among them, 995,000 divorces went uncontested, up 44 per cent from 2003. The remaining divorces required court intervention, the Ministry of Civil Affairs reported.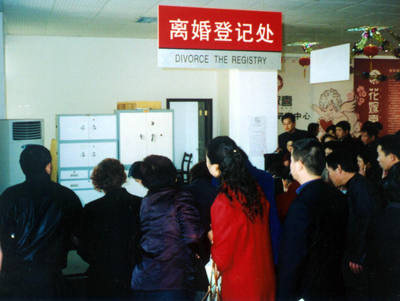 Couples line up for divorce registration in Yichang, Central China's Hubei Province in this picture taken on December 20, 2004. [newsphoto]
The increase is believed to be triggered by more relaxed marriage registration regulations, effective from October 2003, which ease the process of both marriage and divorce.
The increase in divorce may not be a bad thing, said Zhang Mingliang, director of the Department of Construction of Basic-level Government and Community under the ministry. "People have the freedom to make their own decisions about marriage or divorce and the authorities should not interfere too much," Zhang said.
In the past when divorce, although legal, was often frowned upon; applicants needed the permission of their leaders in the workplace to divorce and were often strongly encouraged to stay together.
The new marriage registration regulations now allow couples to marry without a health examination or a letter from their employers testifying to their unmarried status.
Couples can now get a divorce certificate as soon as they both agree to the separation and amicably settle their property, debts and care of any children.
The number of Chinese couples registering for marriage reached 8.3 million last year, up roughly 3 per cent from the previous year, statistics show.
A middle aged woman surnamed Zhang in Changchun, capital of Northeast China's Jilin Province said she has wanted a divorce for a long time, but felt too ashamed to ask for a reference from her employer.
"I think the new marriage registration regulations add more humanity to the laws and I will never have to face the awkwardness of divorce again," Zhang said.
Ji Li, an official with the Changchun Civil Affairs Bureau said the sharply increasing divorce rate can be regarded as a sudden release of the people who had wanted a divorce but were too bashful to file for one.
The number of divorces will not continue to increase by a large margin, on the contrary, the rate will drop after a few years, Ji forecasted.
Statistics from the Changchun bureau found that people between 35 to 45 years of age are in the majority of the divorce queue.
Irreconcilable differences are the most frequently quoted reason for divorce.
Domestic violence is also reportedly on the increase and considered a destabilizing factor for a number of the broken marriages.
The trend is credited to mounting social and work pressure, Ji said.
Meng Guangyu, a researcher with the Heilongjiang Marriage and Research Centre, said the sharp increase in divorce is mainly due to the overall improvement of people's living standards and a change in the Chinese population's concept of marriage.
"Nowadays, more and more modern people have begun to pursue individualism and have attached more importance to the quality of their marital life," Meng said.
The shift in ideas has led to the rapid growth in 'double income, no child' families in urban areas, he said. "The traditional concept of bearing children to hand down the family blood has been long discarded by some urban citizens," Meng said.
(China Daily 03/02/2005 page2)
Today's Top News
Top China News

Beijing seeks best of the best for Olympics




Ease of incorporating opens doors




President Hu to address Fortune global forum




Foreign agencies to issue renminbi bonds




Access widened for Taiwan farm goods




French hostage in Iraq pleads for help