French hostage in Iraq pleads for help
(Agencies)
Updated: 2005-03-02 08:49
BAGHDAD - Kidnapped French journalist Florence Aubenas, taken hostage with her driver in Baghdad more than seven weeks ago, made a desperate appeal for help in a video tape released by Iraqi insurgents on Tuesday.
"My name is Florence Aubenas. I'm French. I'm a journalist with Liberation," she said on the undated tape, speaking in broken English and looking distraught and exhausted.
"My health is very bad. I'm very bad psychologically also," she said, staring at the camera intently. Dressed in a gray sweatshirt and black trousers, she sat with her knees drawn up to her chest in front of a dark red background.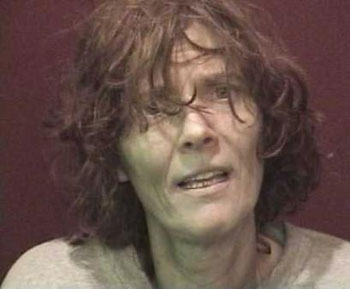 A frame grab taken from a videotape released by insurgents March 1, 2005, shows kidnapped French journalist Florence Aubenas at an undisclosed location. Aubenas, who was seized in the Iraqi capital Baghdad more than seven weeks ago, made a desperate appeal for help in the video. [Reuters]

Her plight underscored the security crisis in Iraq, where a new post-election government yet to be formed faces suicide bombings, shootings and kidnappings in an insurgency that shows no signs of easing nearly two years after the U.S. invasion.

Al Qaeda's wing in Iraq said it was behind the single bloodiest attack since the fall of Saddam Hussein -- a suicide car bomb attack that killed 125 people and wounded 130 in the town of Hilla on Monday, according to a Web statement.

"A lion from our martyrdom brigade plunged into a gathering of apostates in front of a police and National Guard registration center, blowing up his loaded car and killing 125 apostates," said the statement by Al Qaeda Organization for Holy War in Iraq, posted on an Islamist Web site.

The group is headed by Jordanian militant Abu Musab al- Zarqawi, whose followers have claimed responsibility for the bloodiest attacks in Iraq and have kidnapped and beheaded foreigners and Iraqis.

The video tape is the first of Aubenas, 43, to be broadcast since she and her Iraqi driver Hussein Hanun al-Saadi -- who does not appear in the tape -- were seized in Baghdad on Jan. 5.

The French government later revealed on Tuesday that it had received another tape, and shown it to Aubenas's family last week, but did not say what it depicted.

Looking frail, Aubenas sounded desperate and appealed for help to a French parliamentarian.

"I ask particularly for the help of the French deputy Didier Julia. Help me Mr. Julia, help me. It's urgent," she said.

Julia, a member of the lower house of parliament from President Jacques Chirac's conservative UMP party, came to Iraq last September on a freelance effort to try to secure the release of two other kidnapped French journalists.

FEAR AND HOPE

The effort failed and the government denied it had approved his intervention. When the journalists Christian Chesnot and Georges Malbrunot were finally released in December after four months in captivity, they criticized Julia's mission.

The French government told Julia on Tuesday not to undertake any personal initiative to help Aubenas, a senior member of the ruling conservative party said.

The foreign editor of Liberation, Francois Sergent, said: "It is both what we feared and what we hoped for." He had not seen the video.

"It is a sign that they are alive, of course, but we also feared this because the hostages are being held in conditions that make the pictures terrible to see."

Aubenas is one of two female journalists being held. Italian Giuliana Sgrena, a reporter for Rome daily Il Manifesto, was abducted early last month in Baghdad. A tape of her pleading for her life was released nearly two weeks ago.

Iraqi Interior Minister Falah al-Naqib told Al Arabiya television on Tuesday he believed that Sgrena was alive. "I hope we will have good news soon. God willing," he said.

Aubenas, who appeared from the tape to have lost weight while in captivity, was believed to have been snatched from her car shortly after leaving her central Baghdad hotel.

French Foreign Minister Michel Barnier said in London: "We need to check this cassette very carefully. We will take all the measures that we consider useful. We will spare no effort."

INVESTIGATION

Police have opened an investigation into the suicide bombing attack in the largely Shi'ite Muslim town of Hilla. Residents of the town heaved coffins on top of cars and buried the dead.

"Is this jihad (holy war)?" asked one angry man, referring to Arab Muslim militants fighting in Iraq. "This is not holy war. This is the work of infidels."

A man stood weeping at the morgue. An infant who was killed in the blast lay on the floor. "He was hit in the back of the neck by shrapnel," said a man.

A government statement said Prime Minister Iyad Allawi had declared Wednesday a national day of mourning for the Hilla blast victims and decided to give each family who lost relatives the equivalent of $1,000 in compensation each.

Iraqi officials had hoped the Jan. 30 elections would help lead to an easing of the violence.

But insurgents have kept up their attacks while politicians horse-trade over who will fill top government jobs. Officials say Sunni insurgents are trying to ignite a sectarian civil war with attacks like the one in Hilla.

Iraqi officials have accused Syria of supporting insurgents who carry out attacks in Iraq, a charge Damascus has denied.

Iraqi Defense Minister Hazim al-Shaalan confirmed in remarks aired on Al Arabiya that Damascus played a role in the arrest of Sabawi Ibrahim, a former spy chief and senior adviser to Saddam.




Today's Top News
Top World News

Beijing seeks best of the best for Olympics




Ease of incorporating opens doors




President Hu to address Fortune global forum




Foreign agencies to issue renminbi bonds




Access widened for Taiwan farm goods




Private economy demand pragmatic support