Bringing true story of China to the world
(Shenzhen Daily)
Updated: 2005-03-02 08:38
BY writing his English-language biography of former Chinese leader Jiang Zemin, American author Robert Lawrence Kuhn hoped to present the true story of China to the world, American readers in particlar.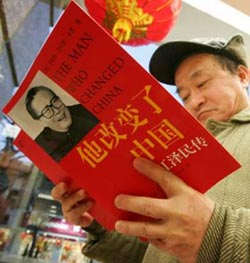 A man reads a Chinese version of the book "The Man Who Changed China: The Life and Legacy of Jiang Zemin" at a bookstore in Shanghai February 15, 2005. The newly published book, a biography of former Chinese President Jiang Zemin is being sold for 38 yuan ($4.60). [Reuters]

Kuhn has written more than 30 books on investment banking, corporate strategy, science and China's economic reform, but so far none of his works has been as influential as his latest book "The Man Who Changed China: The Life and Legacy of Jiang Zemin."

The book has aroused great interest among general readers and critics alike - in both the United Sates and China - since it was published in English by Random House in January this year, and in Chinese by the Shanghai-based Century Publishing Group in February.

"As to the question why I wrote such a book, I can give both a short answer and a long answer," Kuhn said Friday, during a book-signing visit.

"The short answer is to bring the true story of China to the world. To give a long answer, I have to tell you a little bit about my history in China," Kuhn said.

As an investment banker and trained scientist, Kuhn was invited by China's Science and Technology Ministry at the beginning of 1989 to restructure the country's science and technology industry. Since then, Kuhn has advised several ministries and enterprises in China.

Although his main business in corporate merger and inquisition is based in the United States, Kuhn has enjoyed traveling to China every year to lecture on investment banking and to learn about the new China. "But when I returned to the United Sates I found myself frustrated because the American media and audiences, even some of my very smart friends, continued to have a very simplistic, naive, stereotyped and negative impression of China," Kuhn said.

Out of his frustration, he embarked on a series of projects to introduce his own understanding of China to American audiences, including the 90-minute English TV series In Search of China. Kuhn also wrote his first book on China as a companion to the videotapes of the television series, offering more in-depth stories and documentary materials about China.

In 2000, Kuhn helped China's Information Office of the State Council to stage a series of Chinese arts and cultural exhibitions in New York and other 10 major cities.

With so many projects done, Kuhn thought he knew China well. But in September 2000, when he watched Jiang recount the history of modern China and his path to the leadership in 1989 during an interview with Mike Wallace on the TV program 60 Minutes, Kuhn realized he didn't truly understand Jiang and Chinese history.

"When I saw President Jiang (on TV), I was absolutely astonished because I realized how important the essence of Chinese culture and Chinese background was, particularly the contemporary history of China, beginning with the Japanese invasion and occupation in the 1930's, through to the civil war, to the founding of a new China with a communist and socialist ideology, to the political mass movements in the 1950s and 1960, the ending of the Cultural Revolution and to the beginning of reforms," Kuhn said.

Kuhn said all this motivated him to write something about Jiang. When he first began the project, Kuhn didn't know the exact format that he would use to present President Jiang and the new China to the world. Over the next four years, Kuhn managed to conduct dozens of first-person interviews with people who had been close to Jiang in his early life. They included former classmates, family members and associates who had worked with him at different stages in his career, including his leadership period.

"Then I realize that what I have in my hand is a full fledging biography, which will be the best vehicle to show China to the world," Kuhn said.

"And these first-person accounts where people gave me their memories of events and stories are the core of the book," Kuhn said. "Then what I tried to do is take all of my historical analyses and build them onto the core of those first-person interviews, creating a living history, so that the world can appreciate China through the living life of Jiang Zemin," he said.

When asked why he believed Jiang changed China, Kuhn replied: "If you look at China when Jiang bacle leader in 1989, China was socially fractured, economically stagnant, and internationally shunned by the whole world."

"But when you come forward to when he retired around 2003, you see China was economically an engine for the world, and society much freer than in 1989. This remarkable change was brought about through Jiang's implementation of Deng Xiaoping's vision," Kuhn added.

"During the period of Jiang's leadership, China really emerged from the turbulence of the past, even the recent past, and now China has become a really stable country for itself and for the whole world," he said. Asked what is his basic principle for selecting materials for his book, Kuhn disclosed that the total amount of research he did over the past four years was 30 million words.

Back in the United States, Kuhn employed a special team of researchers to gather data, and dozens of Chinese graduates to translate Chinese works from mainland China, Hong Kong and Taiwan into English. "But I wrote every word, struggled with and worried about every idea, over the structure of the book and how to present the stories in a way that I believe to be true.This was a big responsibility for me," Kuhn said.

Before publishing the biography, Kuhn completely rewrote the manuscripts three times and did heavy editing five times. "Each time I selected the materials to present what I felt to be the true, complex, nuanced three-dimensional picture of China," he said.

"Once I had my vision from interviews or my own research, then I selected materials that would enrich that vision," Kuhn said, adding that he originally wrote the book not for Chinese people, but for a western readership, especially American audiences.

Asked what message he intended to convey to American readers, Kuhn said he wanted Americans "to really experience China, and have an emotional feeling about China and what China has gone through" from Jiang's story, which reflects modern China's 70 tumultuous years of deprivation,revolution, social disruptions, and economic resurgence from the 1930's through to the present day.

"Although one may still disagree on many things, I want Americans to understand the complex and nuanced picture of China so that they can appreciate (the country) more as an insider," Kuhn said.

When the book was first published in January, the initial reviews in the United States positioned the book very different from the writings of traditional anti-China critics which had previously appeared in American media. Some American critics disagreed with Kuhn's positive tone, claiming that the period of history he covered in his book was a negative one, and they criticized him further for glossing over and downplaying China's problems.

"My book is not only about problems, which are all most Americans have written about China," Kuhn said. "As these problems came up, in general, I don't criticize them and I let the story tells itself," he said. "I strictly restrict my own views to the very last chapter."

After finishing his manuscript in the summer of 2004, Kuhn had no expections of publishing the book in Chinese. But when Kuhn showed his manuscript to some scholars in China, they told him it included many materials that even Chinese biographers didn't have access to, and they suggested publishing a Chinese version.

When asked if the publication of the biography in China would help his business in the country, Kuhn said he had not started any new business in China during the past four years during which he has been working on the book. "I have a long record in both careers of business and writing," Kuhn said. "I take my writing very seriously, as I do business."

"I treat each one in almost hermetically sealed compartments, and when I'm writing all I care about is the writing without any other interests," he said.

With all business and writing activities, Kuhn is left with no spare time. To keep healthy he tries exercise one hour every day. "It is not necessarily fun, but I have to do it because I have such a heavy working schedule each day," he said. As for the future, Kuhn said he was now looking forward to writing more about the present Chinese leadership.




| | |
| --- | --- |
| | |
| Mian Mian reaches maturity with 'Panda Sex' | |

| | |
| --- | --- |
| | |
| Joan Chen to direct Shanghai film | |

| | |
| --- | --- |
| | |
| Academy Awards in Hollywood | |
Today's Top News
Top Life News

President Hu to address Beijing Fortune global forum




Beijing seeks best of the best for Olympics




Ease of incorporating opens doors




Foreign agencies to issue renminbi bonds




Access widened for Taiwan farm goods




French hostage in Iraq pleads for help