China sees progress in education
(Xinhua)
Updated: 2005-03-02 02:56
By the end of 2004, 93.6 percent of Chinese children are receiving nine years of compulsory education, marking further advancement of China's educational cause.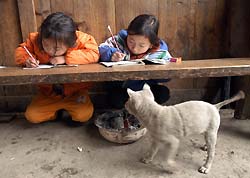 Children of China's Dong minority group are doing their home work in the remote village of southwest Guizhou Province on February 28, 2005. [newsphoto]

Han Jin, a senior official with the Chinese Ministry of Education, said this at a press conference, adding that achievements were also made in five other aspects of China's education during the past year.

According to 2004 statistics, the enrollment rate of China's primary education was 98.95 percent, 0.3 percent higher than the previous year. Enrollment rate for girls, in particular, was 98.93 percent, which was almost the same with that of boys.

In high schools, the enrollment rate was also an obvious increase. Last year, about 13.7 million students were received by high schools, which made the total number of on-campus students reach 36.07 million. In the meantime, professional training schools at this level also developed in a stable way, as 14,500 schools enrolled a total 5.48 million students in the year 2004, up 6.28 percent over the previous year.

In 2004, the size of China's higher education was further enlarged with 2,236 schools of various types and more than 20 million on-campus students, Han said The enrollment rate of higher education was 19 percent, two percentage points higher than the previous year.

China also made great efforts in kindergarten education and special education for disabled children, Han said. In 2004, number of kindergartens in China reached 117,900 with the newly added 1, 509. Special schools for disabled enrolled 50,800 people, making the total number of on-campus students 371,800.

Private schools, under the protection of newly issued laws and regulations, were boosted. By the end of last year, China had 78, 500 private schools with 1.77 million students. Around 1.4 million people chose to study at private universities and colleges.

Han also noted that the illiteracy rate has been limited to below four percent.

Nevertheless, the old problems in China's education still exist, such as the gap between educational investment and people's demand and the difficulties in education in rural areas, Han said.




Today's Top News
Top China News

Beijing seeks best of the best for Olympics




Hu to address global forum




Access widened for Taiwan farm goods




Private economy demand pragmatic support




China sees progress in education




Ease of incorporating opens doors