Lebanese cabinet resigns
(China Daily)
Updated: 2005-03-02 01:32
Lebanon's prime minister and cabinet quit yesterday, highlighting a two-week long crisis and prompting a call for caution from China.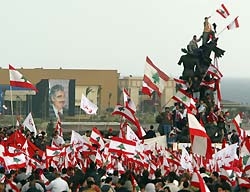 Lebanese opposition protesters carrying Lebanese flags gathered at martyrs square during a sit-in in downtown Beirut Feruary 28, 2005.[Reuters]

Speaking about the high-profile and unexpected resignation yesterday, the Chinese Government urged caution.

"China is concerned with the development of situations in Lebanon, and we hope Lebanon can maintain stability of the situation," said Foreign Ministry spokesman Liu Jianchao, at a news briefing yesterday.

The crisis that started with the assassination of former Prime Minister Rafik Hariri in a February 14 bombing that also killed 16 others finally came to a head late Monday night with an unprecedented government debate.

Following the assassination, the government officially banned protests but that did not stop tens of thousands of people from gathering in front of the Lebanese Parliament and bringing anti-Syrian sentiment to a feverish pitch.

In the past few days other countries have also upped pressure on Syria to withdraw troops from Lebanon, where it has a military presence 14,000 strong.




Today's Top News
Top World News

Beijing seeks best of the best for Olympics




Ease of incorporating opens doors




President Hu to address Fortune global forum




Foreign agencies to issue renminbi bonds




Access widened for Taiwan farm goods




French hostage in Iraq pleads for help