Hu to address Beijing Fortune global forum
By Liu Jie/Song Ning (China Daily)
Updated: 2005-03-02 01:32
President Hu Jintao will deliver the keynote address at the upcoming 2005 FORTUNE Global Forum in Beijing, its organizers announced yesterday.
Qian Xiaoqian, vice-minister of the State Council Information Office, told the press that more than 200 Chinese government ministers, high-level scholars and top entrepreneurs will attend the international event, which is scheduled for May 16-18.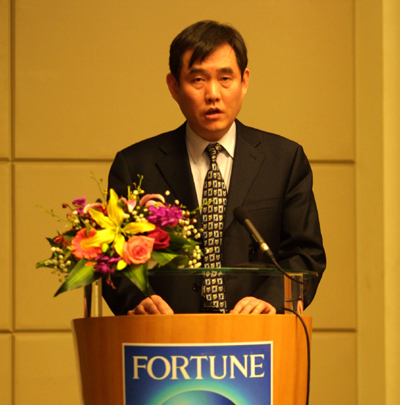 Qian Xiaoqian, vice minister of the Information Office of the State Council, speaks at a press briefing in Beijing on March 1, 2005. [newsphoto]
More than 300 overseas participants will be present at the forum, including business leaders from around the world and corporations such as HSBC, General Motors, Samsung, Qualcomm, Disney, e-Bay and Infosys.
Qian's office is collaborating with US-based FORTUNE magazine to hold the forum this year.
Sources from the organizing committee revealed that the forum, themed "China and the New Asian Century," will go beyond economic numbers and take a balanced look at the deeper story behind China's economic development.
The programme consists of a mix of plenary sessions, workshops and events providing an in-depth look at the opportunities and challenges of multinational corporations and countries as they do business throughout Asia.
The 2005 FORTUNE Global Forum will be the ninth of its kind and the third held in China, with Shanghai and Hong Kong having been hosts in 1999 and 2001 respectively.
"We are very happy with the progress we are making in preparing for the forum, thanks especially to the enthusiastic commitment shown by China's top leaders," said Rik Kirkland, managing director of FORTUNE Magazine.
"The forum is shaping up to be the biggest event in China this year. President Hu's participation shows that the FORTUNE Global Forum enjoys China's support at the highest level," Kirkland said.
According to Wang Hui, director of the Beijing Municipal Information Office, the forum will be held at landmark venues across Beijing.
Forum to focus on country's growth
China's role in global economic growth over the next two decades and the opportunities arising from it will be the major themes of the forum.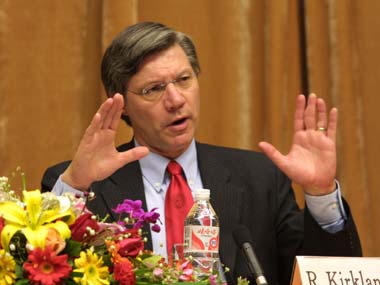 FORTUNE Magazine's managing editor Rik Kirkland speaks at a press briefing in Beijing on March 1, 2005. [newsphoto]
China's leading role as a driver of global growth has been recognized worldwide but new issues have arisen leading to concern among international investors, Rik Kirkland said.
These issues include the need to deregulate the financial sector, develop the capital market, make rules transparent and ensure profitability in an increasingly competitive environment.
Despite the fast growth of local players, the role of multinational companies in the Chinese economy has been acknowledged for providing technology, financing, expertise and the creation of jobs. On the other hand, they have also benefited from China's growth in terms of access to the local market, lower labour costs and increased profits.
"It will be a forum of true dialogue, vigorous exchange of ideas between business leaders and Chinese decision-makers to identify what needs to be done and generate new thinking, better ideas for the benefit of the Chinese and world economy," Kirkland said.
"It will be the opportunity to let them (investors) talk about their problems and their frustrations, have them heard and find solutions."
Kirkland arrived in Beijing on Monday to check on preparations for the forum. He has worked with FORTUNE Magazine for 26 years and is handing over the magazine's top editorial job to Eric Pooley to return to writing and commentating.
"When we brought the forum to China in Shanghai in 1999, multinational players didn't have enough understanding about China," Kirkland recalled. "So it was a 'Welcome to China' forum."
That event, which was held prior to the celebration of 50th anniversary of the founding of the People's Republic of China, helped encourage many multinational companies to invest in the country.
"Today, you don't have to educate them. They are aware of the opportunities here," he said.
Six years ago, international investors were dealing with basic problems, including institutional barriers, pricing autonomy, movement of money and red tape.
Progress has been made in every front, Kirkland said. Opportunities have kept arising in new sectors, which is why the forum includes sports, luxury goods and culture sectors in the roundtable discussions.
He expects China to become a centre of excellence of sports and an attractive market for high-end cars, fashion, premier liquor and jewellery.
"Six years after the Shanghai forum, people like to talk (of these topics), which is indicative of change and opportunities," Kirkland said.
"The China story usually is the first, second and third thing I discuss with CEOs, which is why we brought the global forum to China for the third time," he said. A similar event took place in Hong Kong in 2001.
"Also, China's role is of great interest to my readership and to the people we cover."
He listed the top three China stories his magazine has covered: the rise of China, the challenge of China and the opportunities of China.
FORTUNE China has become the most important and fastest-growing of the magazine's non-English editions.
Today's Top News
Top China News

Hu to address Beijing Fortune global forum




Beijing seeks best of the best for Olympics




China lashes out at US human rights report




Ease of incorporating opens doors




Foreign agencies to issue renminbi bonds




Access widened for Taiwan farm goods