Suicide bomb kills 125 near Iraq marketplace
(Agencies)
Updated: 2005-03-01 08:44
A suicide bomber killed 125 people and wounded 130 by detonating a car near police recruits in a crowded market south of Baghdad on Monday, the single bloodiest attack in Iraq since the fall of Saddam Hussein.
The bomber blew the car up next to a line of recruits waiting at a health center to take an eye test so they could join the Iraqi police in the town of Hilla, 62 miles south of the capital, witnesses said.
Many of those killed were at the market across the road, and were caught in the blast as they shopped in morning sunshine.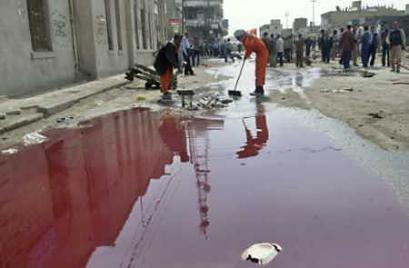 Iraqi workers clean debris near a large pool of blood at the scene of a suicide attack in the city of Hilla, February 28, 2005. A suicide bomber detonated a car near police recruits and a crowded market on Monday, killing 125 people and wounding 130 in the single bloodiest attack in Iraq since the fall of Saddam Hussein. [Reuters]

"I was standing in the queue when I saw this Mitsubishi coming slowly toward us," Ameer Hassan, one of the recruits, said at a nearby clinic. "Then it blew up in a huge fireball. When I opened my eyes again, I was in hospital."

Reuters television footage showed a pile of bloodied bodies outside the building. Smoke rose from the wreckage of burned-out market stalls as bystanders loaded mangled corpses on to rickety wooden carts, usually used to carry fruit and vegetables.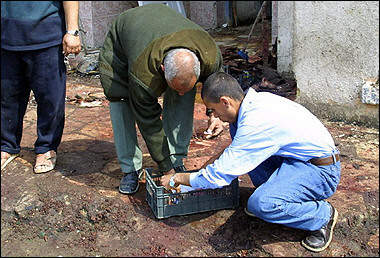 Iraqis collect belongings of victims caught in a bomb, off the blood stained sidewalk following a car bomb, in the southern city of Hilla, the capital of Babylon province, 100 kms south of Baghdad. [AFP]

Others, their limbs ripped to shreds, were piled into the back of pick-up trucks. Nearby buildings were pockmarked by shrapnel. People wept, clutched their heads in despair and shouted "God is greatest" as rescuers led the injured away.

"The suicide bomber came from a nearby alleyway," said Zeyd Shamran. "There were two people in (the car) and when it stopped one man got out, shook hands and kissed the other man."

Moments later the car exploded, he said.

CONDEMNATION

U.N. Secretary-General Kofi Annan condemned the attack as an act of senseless violence.

"This terrorist attack constitutes a flagrant violation of international humanitarian law," Annan said in a statement.

An official in Hilla's health directorate said the latest death toll was 125. Coalition forces confirmed at least 110 dead. No one claimed responsibility for the attack.

The toll is the highest from a single attack since the fall of Saddam in April 2003, and makes Monday one of the bloodiest days of the two-year insurgency.

The worst day was last March, when more than 170 people were killed and hundreds wounded in a series of suicide bombings in Baghdad and the holy city of Kerbala, just west of Hilla.

Insurgents have often targeted police recruits in their fight to drive U.S. troops out of Iraq and wreck the country's transition to democracy. They have also attacked soldiers and other employees of the U.S.-backed interim government.

The carnage came as Interim Prime Minister Iyad Allawi acknowledged Iraq's security forces were still unable to take on the insurgency without the help of U.S.-led troops.

"Iraqis should be able to start taking over more and more security responsibilities very soon," he wrote in the Wall Street Journal. "But we will continue to need and to seek assistance for some time to come."

Elsewhere in Iraq, another suicide car bomber blew up his vehicle in the town of Musayyib, just 18 miles from Hilla, but succeeded only in killing himself.

A hospital official said one civilian was killed and two wounded in fighting in Baquba, northeast of Baghdad.

Two policemen were killed in the capital, one by a gunman and one by a roadside bomb, police sources and witnesses said.

The U.S. military said one of its soldier was shot and killed in Baghdad while manning a traffic checkpoint. The death takes the number of U.S. troops killed in action in Iraq since the March 2003 war to 1,137.

Allawi's government and its American backers insist the insurgency is being defeated and have announced a series of high-profile arrests in recent weeks to support their claim.

Government sources gave details on Monday about the capture of Saddam's half-brother, Sabawi Ibrahim, a top-level Baathist accused of directing the Iraqi insurgency from Syria.

They said he was seized by Syrian Kurds in northeast Syria and handed to Iraqi Kurds before being taken into custody by Iraq's forces. Since Syrian Kurds are tightly watched by Damascus, they may have received a green light for the seizure.

Iraq's U.S.-backed government has repeatedly accused Syria of assisting militants, charges Syria denies. Syrian authorities in Damascus had no comment on their possible involvement in Ibrahim's capture. The U.S. military also would not comment.




Today's Top News
Top World News

GDP ecological costs closely calculated




Survey shows stock market top concern




Telecom legislation speeds up




Divorce rate 21.2 percent up in 2004




Shenzhen man set for star trek




Bin Laden enlisting Al-Zarqawi for attacks