Bin Laden enlisting Al-Zarqawi for attacks
(Agencies)
Updated: 2005-03-01 08:07
WASHINGTON - New intelligence indicates that Osama bin Laden is enlisting Abu Musab al-Zarqawi, his top operative in Iraq, to plan potential attacks on the United States, federal officials said Monday.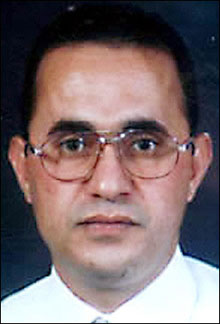 Undated photo obtained from the US Department of State shows Abu Musab al-Zarqawi. Al-Qaeda leader Osama bin Laden has suggested to the US foe, that he get involved in attacks inside the United States, a US counter-terrorism official said. [AFP]

Al-Zarqawi has been involved in attacks in the Middle East. He has not been known to have set his sights on America.

The Homeland Security Department issued a classified bulletin to officials over the weekend about the intelligence, which spokesman Brian Roehrkasse described as "credible but not specific." The intelligence was obtained over the past several weeks, the officials said.

The government has no immediate plans to raise its national terror alert level, Roehrkasse said. But, he said, the intelligence "reiterates the desire by al-Qaida and its associates to target the homeland."

Bin Laden was in contact with al-Zarqawi within the past two months in an effort to enlist him in attacks, said an official, who spoke on condition of anonymity. The move may reflect the al-Qaida leadership's desire to involve al-Zarqawi in activities outside Iraq, the official said.

Events in Iraq, officials noted, have limited al-Zarqawi's ability to undertake attacks elsewhere.

Al-Zarqawi, who is blamed for scores of attacks in Iraq, pledged allegiance to bin Laden and the al-Qaida network last year. Yet he has had differences with bin Laden, and his efforts are considered somewhat distinct from central al-Qaida operations.

A Bush administration official with access to the Homeland Security Department's bulletin said the intelligence indicates that al-Qaida has continued to encourage al-Zarqawi, who was born in Jordan, to get involved in terrorist actions against Americans outside Iraq, including in the United States.

"The intelligence continues to be analyzed by the intelligence community and all appropriate information will be passed on to homeland security partners," Roehrkasse said. "The department has no plans at this time to raise the threat level based on this nonspecific information."

The agency sent the bulletin to state homeland security directors. A Justice Department official said the FBI was not involved and that the information that led to the bulletin was gleaned by CIA intelligence.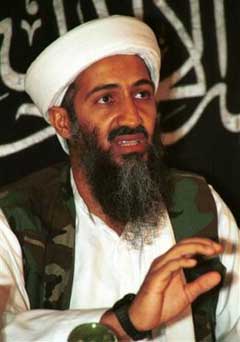 Osama bin Laden speaks to the journalists in this 1998 photo taken in Khost, Afghanistan and made available Friday March 19, 2004. [AP]

In the United States, al-Zarqawi rivals bin Laden as public enemy No. 1. He has a $25 million U.S. bounty on his head and is believed to have orchestrated car bombings, kidnappings, assassinations and beheadings in Iraq.

Al-Zarqawi has run an increasingly dangerous, but diffuse, network of operatives in Iraq known by a number of names. He is blamed largely for attacks in the Middle East, including numerous attacks in Iraq and foiled plots targeting U.S. and Israeli targets in Jordan at the millennium.

In October, he made a first-ever pledge of loyalty to bin Laden, by posting a message on a Web site known for carrying militant Islamic content. At the time, U.S. officials believed al-Zarqawi was hoping to appeal to a larger audience and adopt bin Laden's broad objective to attack the United States.

Bin Laden, who is believed to be hiding on the rugged border between Afghanistan and Pakistan, is thought to communicate with his deputies by courier, taped messages and other means. In January 2004, Kurdish forces in northern Iraq detained one courier, Hassan Ghul, who was carrying a letter written by al-Zarqawi to bin Laden. In it, al-Zarqawi proposed starting a civil war between Iraq's Sunni and Shiite Muslim populations.

Last year, the Jordanian government stopped a Zarqawi-linked plan to use chemicals and explosives to blow up Jordan's secret service agency, the prime minister's office and the U.S. Embassy.

The Jordanians are also after al-Zarqawi, who was convicted last year for assassinating U.S. aid worker Laurence Foley in Amman in 2002. The Jordanians have issued a death sentence for al-Zarqawi.

At a Senate hearing this month, CIA Director Porter Goss warned that al-Zarqawi has "sought to bring about the final victory of Islam over the West." Goss said al-Zarqawi hopes to establish a safe haven in Iraq from which his group could operate against "'infidel' Western nations and 'apostate' Muslim governments."




Today's Top News
Top World News

China's divorce rate up 21.2 percent in 2004




GDP ecological costs closely calculated




KMT envoy to embark on mainland visit




US may buy military equipment from Taiwan




Suicide bomb kills 125 near Iraq marketplace




Survey shows stock market top concern