China's divorce rate up 21.2 percent in 2004
(Xinhua)
Updated: 2005-03-01 01:51
China saw 1.613 million couples divorced in 2004 while 8.341 million couples registered to marry that year, according to statistics of the Ministry of Civil Affairs.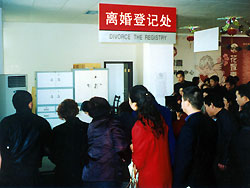 Couples queue to make divorce transactions in Yichang, Central China's Hubei Province on December 20, 2004. [newsphoto/file]

Compared with the statistics of 2003, 282,000 more couples divorced with an increase rate of 21.2 percent while 227,000 more couples got married in 2004.

About 995,000 couples chose to divorce at civil administration organs rather than suing at courts in 2004, 304,000 couples more than those in 2003 with an increase rate of 44 percent, which covers 62 percent of the total divorces.

China's civil administration organs should make more efforts in educating the people to take a more cautious attitude to marriage, said Prof. Wu Changzhen, an expert in marriage and family law with the People's University of China.

As for Prof. Wu, three factors should be blamed for the sharp rise of divorce numbers in China in recent years.

The first factor is the simplification of divorce procedures. With the taking effect of the new marriage law in October 2003, a couple who present their own residence booklet, identification cards, marriage certificates and their written divorce agreements will get their divorce certificates on the spot. While in the past they had to present the recommendations offered by their enterprises or institutions where they were working or by the local residents' committees or villagers' committees, basic community organizations in China.

Secondly, unlike the past when people who got divorced would get a debased appraisal, the Chinese society tends to take a usual attitude to divorced people, said Wu.

Moreover, Wu said, the opening of the Chinese society make people enjoy more freedom in marriage.




Today's Top News
Top China News

GDP ecological costs closely calculated




KMT envoy to embark on mainland visit




US may buy military equipment from Taiwan




Suicide bomb kills 125 near Iraq marketplace




Bin Laden enlisting Al-Zarqawi for attacks




China's divorce rate up 21.2 percent in 2004