GDP ecological costs closely calculated
By Qin Chuan (China Daily)
Updated: 2005-03-01 01:37
Ten municipalities and provinces, including Beijing, have started experimental work to deduct environmental costs from their gross domestic product (GDP), the State Environmental Protection Administration said yesterday.
The test results are expected to be released early next year and will lay a good foundation for nationwide implementation of the new method of calculating the so-called "green GDP."
Given that the country's economy is rapidly growing while its environment has been worsening, environmental officials and experts have been calling for the adoption of green gross domestic product throughout the country over the years.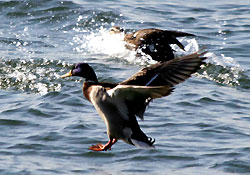 Birds frolic on the water in Jinan park on January 4, 2005. Groups of birds back to the city as local environment improves in recent years. [newsphoto]

Experts estimate that when environmental costs are deducted, the average annual GDP growth rate in China will be cut by as much as by 2 percentage points. The GDP growth in China was 8 per cent in 2002 and exceeded 9 per cent in the past two years.

According to the vice-minister of the administration Pan Yue, regional systems for environmental accounting will be set up to match the varied conditions in diverse municipalities and provinces.

Meanwhile, ways to assess and calculate economic damage caused by pollution will be developed and payments for environmental protection will be studied.

Tough task ahead

Admitting that setting up a green GDP calculation system in China is a tough task and will take a long time to implement, Pan said it was necessary to lay a foundation for the country's sustainable development.

Chief engineer at the Chinese Academy for Environmental Planning Wang Jinnan said a technical guide for environmental economic accounting has been designed for use as a reference by municipalities and provinces.

Based on the guide, the regions will develop accounting systems that match their own conditions, Wang said.

He said training programmes will also be offered later this month to officials from the 10 municipalities and provinces to help them better understand and complete the work.

Wang's academy is the leading research organization offering technical support to the experimental effort, a joint undertaking of the administration and the National Bureau of Statistics. The two authorities set up a team last March to carry out the study.

Wang said they are also doing similar calculations at the national level, but the results will not come out until next May.

Chen Kun of the Chinese Society for Sustainable Development said the move is a great step forward for the government but pointed out that green GDP is only a start and its implementation is not enough for the country to achieve sustainable development.

"Green GDP can expose existing problems, but it is not the solution," he said.

Chen said the best way for China is to change its model of economic development and pursue a circular economy, which employs the most efficient use of resources and achieves maximum economic and environmental benefits at a minimum cost.

Chen also said efforts should be made to solve the problem of an environment-related index since losses in natural resources are not easy to calculate.




Today's Top News
Top China News

GDP ecological costs closely calculated




KMT envoy to embark on mainland visit




Suicide bomb kills 125 near Iraq marketplace




Bin Laden enlisting Al-Zarqawi for attacks




Divorce rate 21.2 percent up in 2004




Shenzhen man set for star trek