Shenzhen man set for star trek
By Wang Zhuoqiong (China Daily)
Updated: 2005-03-01 01:37
SHENZHEN: Chinese tourists have been taking the world by storm in recent years but one affluent and adventurous man in the booming southern China city of Shenzhen has set his sights higher - space.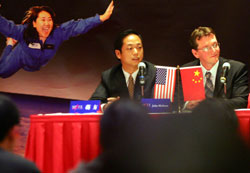 John Moltzan (right), sales executive of the US-based Space Adventures , and Jiang Fang, general manager of the Hong Kong Space Travel Ltd, brief journalists on the first paying Chinese space tourist in Shenzhen .

The man, surnamed Jiang, may be China's first paying space passenger and has already put down a deposit of 1 million yuan (US$120,000) for the privilege next year, according to Jiang Fang, general manager of Hong Kong Space Travel Ltd, who refused to provide any more details about the client.

Jiang is said to have signed up for the suborbital space flight, whose engines are to be shut down for several minutes when it reaches an altitude of 100 kilometres enabling passengers to experience weightlessness and enjoy views of the curvature of the Earth.

The Hong Kong firm has signed a partnership agreement with the US-based Space Adventures, the only private company to have successfully flown clients to the International Space Station.

Among the latter's clients are the world's first two space tourists to the International Space Station, Dennis Tito and Mark Shuttleworth, in April 2001 and in April 2002 respectively. Their orbital flights are estimated to have cost a cool US$20 million each.

Apart from suborbital space flights, a ride in zero-gravity-space-simulated spaceships and fighter planes and ground-based space travel training are also available for the Chinese market, Beijing News quoted John Moltzan, sales executive of Space Adventures as saying at the signing ceremony on Sunday in Shenzhen.

With the orbital space flight costing about US$20 million, suborbital flights priced at about US$190,000 would be popular with Chinese tourists, Moltzan was quoted as saying.

To cover the low-end market, Jiang Fang said his company has also worked out space tourism programmes at 150,000 yuan each.

"We understand there are many Chinese who have a strong desire for space exploration but cannot afford the price yet," said Jiang Fang.

The programme will have 20 spots and will offer a chance for Chinese people to visit NASA (National Aeronautics and Space Administration) and participate in space-exploration training courses for 16 days in the United States.

However, Jiang expects only a small number of wealthy Chinese to take up the offer in the next three years.

An official at the National Tourism Administration said it had not received any report on commercial space flights .




Today's Top News
Top China News

GDP ecological costs closely calculated




KMT envoy to embark on mainland visit




Bin Laden enlisting Al-Zarqawi for attacks




Divorce rate 21.2 percent up in 2004




Shenzhen man set for star trek




Telecom legislation speeds up