Suicide bomber kills at least 106 in Iraq
(Agencies)
Updated: 2005-02-28 21:18
BAGHDAD, Iraq - A suicide car bomber attacked a crowd of police and Iraqi National Guard recruits south of Baghdad on Monday, killing at least 106 and wounding 133, police said. It was one of the deadliest insurgent attacks since President Bush declared the end of major fighting in May 2003.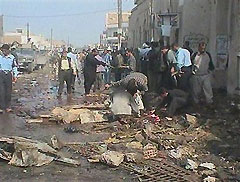 People gather near the scene and sift through the wreckage after a suicide car bombing in Hilla, Iraq Monday Feb. 28, 2005 in this image from television. [AP]

Associated Press Television News footage showed large pools of blood outside the medical clinic, located on a dusty street in Hilla, 60 miles south of Baghdad. Scorch marks covered the clinic walls and dozens of people gathered to help put body parts into blankets. Soles of shoes and tattered clothes were piled up in a corner.

"A suicide car bomb hit a gathering of people who were applying for work in the security services. The incident led to the death of 106 people and injury of 133 citizens," Babil province police said in a statement released to reporters

It added that "several people" were arrested after the blast. It did not elaborate.

Dozens of bodies could be seen laying on the ground after the blast, and half a dozen ambulances ferried casualties to a nearby hospital, witnesses said. The huge blast damaged nearby shops and parked cars, and sent panicked people fleeing.

"People were queuing up to be checked medically in order to become policemen. A car came ... and exploded, killing more than 50 people, more than what you expect," Ammar Mosa, a witness told APTN.

A second car bomb exploded Monday at a police checkpoint in Musayyib, about 20 miles north of Hillah, killing at least one policeman and wounding several others, police said on condition of anonymity.

Iraqi security forces have been regularly targeted by insurgents who see them as collaborating with U.S. forces and want to undermine Iraq's American-backed government.

The twin attacks came a day after Iraqi officials announced that Syria had captured and handed over Saddam Hussein's half brother, a most-wanted leader in the Sunni-based insurgency, in the latest in a series of arrests of important insurgent figures that the Iraqi government hopes will deal a crushing blow to violent opposition forces.

The arrest of Sabawi Ibrahim al-Hassan also ended months of Syrian denials that it was harboring fugitives from the ousted Saddam regime. Iraq authorities said Damascus acted in a gesture of goodwill.

Sabawi Ibrahim al-Hassan, who shared a mother with Saddam, was nabbed along with 29 other fugitive members of the former dictator's Baath Party in Hasakah in northeastern Syria, 30 miles from the Iraqi border, the officials said Sunday on condition of anonymity. The U.S. military in Iraq had no comment.

Syria is under intense pressure from the United States, the United Nations, France and Israel to drop its support for radical groups in the Middle East, to stop harboring Iraqi fugitives and to remove its troops from Lebanon.

A week ago authorities grabbed a key associate and the driver of Jordanian-born terror leader Abu Musab al-Zarqawi, leader of al-Qaida in Iraq and believed to be the inspiration of the ongoing bombings, beheadings and attacks on Iraqi and American forces. Iraqi officials said they expect to take al-Zarqawi soon.

Iraqis welcomed news of al-Hassan's capture.

"I hope all the terrorists will be arrested soon and we can live in peace," said Safiya Nasser Sood, a 54-year-old Baghdad housewife. "Those criminals deserve death for the crimes they committed against the Iraqi people."

The Iraqi officials did not specify when al-Hassan was captured, only saying he was detained after the Feb. 14 assassination of former Lebanese Prime Minister Rafik Hariri in Beirut, Lebanon, in a blast that killed 16 others. Syria fell under suspicion in the killing because of its military and political domination of the country, where it maintains 15,000 troops. Hariri had quit the premiership over Syria's continued presence in Lebanon.

Capt. Ahmed Ismael, an Iraqi intelligence officer, said al-Hassan was handed to the Iraqis Sunday. Another Iraqi official said Syrian security forces expelled al-Hassan after he and his supporters had been turned back in an earlier attempt to cross the Syrian border into Lebanon and Jordan.

Al-Hassan was No. 36 ¡ª the six of diamonds ¡ª on the list of 55 most-wanted Iraqis compiled by U.S. authorities after Saddam was toppled in April 2003. Eleven from the deck of cards issued to help troops identify the suspects remain at large. The United States had offered $1 million for his capture.

Iraq's postelection Shiite Muslim power broker, United Iraqi Alliance leader Abdel Aziz al-Hakim, told AP al-Hassan's arrest signaled troubled times for the insurgency.

"Those criminals are on the run and we will chase the rest of them. We will work on arresting all the criminals, either those inside Iraq, or those in other neighboring countries, so that they can stand fair trial and be punished for the crimes they have committed against the Iraqi people," he said.




Today's Top News
Top World News

Criminal penalties pondered for aborting females




Taiwan urged to back '1992 Consensus'




'Baby' is Oscar heavyweight with 4 wins




Securities legislation protects investors




Kitty Hawk sailor to appear in HK court




Iran, Russia sign nuke deal opposed by US