Bird flu kills 47th Asian victim in Vietnam
(Agencies)
Updated: 2005-02-28 11:40
HANOI - Bird flu has killed a 69-year-old Vietnamese man, the 47th Asian victim of a virus experts fear could unleash a global influenza pandemic capable of wiping out millions of people.
The man was taken to a hospital in the northern province of Thai Binh on Feb. 19 and died last Wednesday, said Pham Van Diu, director of the province's Center of Preventive Medicine.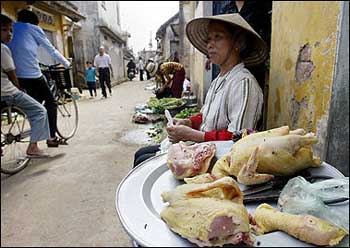 A vendor sits next to a tray filled with chickens for sale in Hoai Duc district, Northern province of Ha Tay. A 69-year-old man has died of bird flu in Vietnam, the fourteenth fatality from the disease in the country this year, and another is in critical condition, health officials said. [AFP]

"We sent samples taken from him to Hanoi for tests and the results confirmed he had bird flu," he told Reuters on Monday.

The death is the 14th in Vietnam since the H5N1 virus erupted again in December in the Mekong Delta in the south and the second since then in Thai Binh province, 110 km (70 miles) southeast of Hanoi.

Two other men from Thai Binh, one aged 21 and the other 36, have also caught the virus, while a 15-year-old also from the province is suspected to be infected. All are being treated in Hanoi.

Trinh Quan Huan, head of the Health Ministry's Department of Preventive Medicine and AIDS Prevention, was quoted by Monday's Vietnam News daily as saying the 36-year-old was in critical condition.

Officials said the 21-year-old patient drank duck blood before the Lunar New Year festival early this month. He has been on a respirator while his 14-year-old sister, suspected of having bird flu, has been taken to the same hospital in Hanoi.

Last month a man from Thai Binh died after drinking duck blood and tests confirmed he had bird flu.

Almost all the victims -- 34 Vietnamese, 12 Thais and a Cambodian -- have caught it from poultry infected by a virus which erupted across much of Asia at the end of 2003.

Bird flu has killed more than 70 percent of those known to have been infected, but doctors say victims can be saved if they are diagnosed early.

"Whenever one has high fever and coughing, one should come immediately to the hospital," Dr Le Thanh Liem told Reuters in a recent interview in the Mekong Delta province of Long An.

"Many come to us too late, on the third or the fourth day after they fell sick."

Experts fear the virus, which they now consider endemic in parts of Vietnam, Thailand, Indonesia and China, could mutate into a form which can pass between humans and trigger a pandemic like one in 1918-19 which killed 20-40 million.

Last week, an international bird flu conference in Ho Chi Minh City urged wealthy Western countries to help Asia in the battle against the virus.

U.N. officials were highly critical of the dilatory response to what one U.S. expert calls the single biggest threat to human health.




Today's Top News
Top World News

Criminal penalties pondered for aborting females




Taiwan urged to back '1992 Consensus'




Securities legislation protects investors




Kitty Hawk sailor to appear in HK court




Iran, Russia sign nuke deal opposed by US




Wen calls for more efforts to curb corruption