Blanchett wins supporting actress Oscar
(Agencies)
Updated: 2005-02-28 10:35
Cate Blanchett won the supporting-actress Academy Award on Sunday for her role as Katharine Hepburn in "The Aviator." Morgan Freeman won the supporting-actor Oscar for his portrayal of a worldly wise ex-prizefighter in Clint Eastwood's boxing saga "Million Dollar Baby."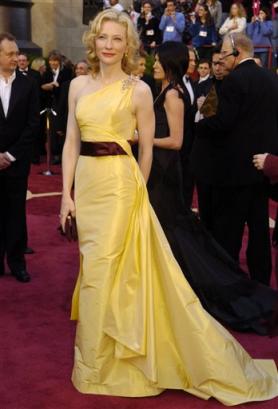 Best supporting actress nominee Cate Blanchett arrives for the 77th Academy Awards Sunday, Feb. 27, 2005, in Los Angeles. [AP]


Freeman became just the ninth black actor to win out of nearly 300 recipients in the 77-year history of the Oscars, joining such supporting-performer winners as Cuba Gooding Jr. for "Jerry Maguire," Whoopi Goldberg for "Ghost" and Louis Gossett Jr. for "An Officer and a Gentleman."

"I want to thank everybody and anybody who ever had anything at all to do with the making of this picture. But I especially want to thank Clint Eastwood for giving me the opportunity to work with him again," said Freeman, who previously co-starred in Eastwood's "Unforgiven."

Freeman's win set up a record-tying night for black performers, with Jamie Foxx expected to take the best-actor prize for the Ray Charles tale "Ray." It would be only the second time blacks have won two of the four acting Oscars, following Denzel Washington and Halle Berry's triumph three years ago for "Training Day" and "Monster's Ball."

"The Aviator" won for best art direction, and "The Incredibles," won best animated feature.

Unlike last year, when "The Lord of the Rings: The Return of the King" dominated the awards as expected and flat-out front-runners took all four acting prizes, the 77th Oscars shaped up as a mixed bag, with only Foxx a virtual lock to win.

With no huge hits among top nominees, Oscar organizers worried that TV ratings could dwindle for the live ABC broadcast. The Oscars tend to draw their biggest audiences when blockbusters such as "Titanic" or "Return of the King" are in the mix, stoking viewer interest.

Producers of the show hoped the presence of mouthy first-time host Chris Rock might boost ratings, particularly among younger viewers who may view the Oscars as too staid an affair. Rock had mocked the Oscars a bit beforehand, calling awards shows "idiotic," but he was on his best behavior in his opening monologue.

Rock chided some celebrities by name and included one mild three-letter word, but his routine was fairly clean for the comedian known for a foul mouth in his standup act.

"The only acting you ever see at the Oscars is when people act like they're not mad they lost," Rock said. He recalled the year when Halle Berry won and fellow nominee "Nicole Kidman was smiling so wide, she should have won an Emmy at the Oscars for her great performance. I was like, if you'd done that in the movie, you'd have won an Oscar, girl."

Organizers also tried to spice up the show with new presentation tactics, including herding all nominees on stage at the same time, beauty-pageant style, for some awards.

The first prize of the night, for art direction, was awarded that way, with a total of nine nominees from five films spread across stage behind presenter Berry. The Oscar went to "The Aviator," which led contenders with 11 nominations.

"The Aviator, Martin Scorsese's gloriously rendered Howard Hughes saga, and "Million Dollar Baby," Eastwood's emotionally piercing prizefight saga, presented the evening's key matchup for best picture.

The other contenders were "Finding Neverland," a fanciful look at playwright J.M. Barrie's inspirations in writing "Peter Pan"; "Ray," a hearty portrait of the loves, lusts, failings and musical triumphs of singer Charles; and "Sideways," the critics' darling about a dour wretch whose road trip with a buddy leads him to new hope for romance.

Scorsese and Eastwood's duel for best director carried almost as much drama as the best-picture race.

One of American cinema's most esteemed filmmakers, Scorsese was in danger of joining such luminaries as Alfred Hitchcock and Robert Altman as record holders for Oscar futility: Five directing nominations, five losses.

Eastwood, a past directing and best-picture Oscar recipient for the 1992 Western "Unforgiven," beat Scorsese for both the Directors Guild of America prize and the Golden Globe directing honor for "Million Dollar Baby." Those prizes are solid indicators on who ultimately wins the best-director Oscar.

Scorsese also has never delivered a best-picture winner, though many in Hollywood believe his 1980 masterpiece "Raging Bull" should have won that honor and the best-director prize. Robert Redford's "Ordinary People" took both those awards that year.

At the 1990 Oscars, Scorsese's "GoodFellas" lost both categories to Kevin Costner (news)'s "Dances With Wolves." If Eastwood prevails, it would be the third time a superstar-actor-turned-director had skunked Scorsese on Oscar night.

Eastwood also scored a best-actor nomination for "Million Dollar Baby," though Foxx was considered one of the strongest favorites in Oscar history for his exceptional emulation of Charles, a portrayal so eerily believable it jolted even the late singer's friends and family.

Hilary Swank, an Oscar winner for "Boys Don't Cry," had the edge for best-actress for her role as a bullheaded boxer in "Million Dollar Baby," but Annette Bening was a serious rival for the theater farce "Being Julia."

On Hollywood Boulevard outside the Kodak Theatre, excited fans packed into bleachers along the Oscars red carpet after waiting for hours to get in.

"It's American royalty," said Barbara Doyle, 57. "We don't have the queen. We have actors and actresses."

"I've always wanted to do this," said 48-year-old Pam Ford, who won front-row seats from a TV station and brought three friends. "To win and sit in the front row, it's beyond comprehension, anything I ever dreamed of. I could die tomorrow."




| | |
| --- | --- |
| | |
| Academy Awards in Hollywood | |

| | |
| --- | --- |
| | |
| Diving prince guest performs in an album | |

| | |
| --- | --- |
| | |
| Fish with a head resembling a tiger attracts visitors in Shandong | |
Today's Top News
Top Life News

Criminal penalties pondered for aborting females




Taiwan urged to back '1992 Consensus'




Securities legislation protects investors




Kitty Hawk sailor to appear in HK court




Iran, Russia sign nuke deal opposed by US




Wen calls for more efforts to curb corruption