Smashing piracy takes public events and support
By Qin Chuan and Cui Ning (China Daily)
Updated: 2005-02-28 06:15
Tens of thousands of pirated books, DVDs, CDs, and computer discs were smashed to pieces publicly Saturday in Beijing, marking the beginning of a series of activities aimed at strengthening copyright protection.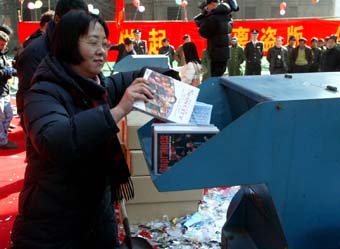 A Chinese volunteer drops a copy of pirate DVD into a pulverizer during a national anti-piracy campaign Saturday in Beijing, which featured government officials, publishers and more than 100 performers from Chinese mainland, Hong Kong, Taiwan and Southeast Asia. [newsphoto]

Copyright officials and people from entertainment circles were invited to help destroy the pirated products. "We hope that through such large-scale activities, public awareness in copyright protection can be achieved," deputy head of the Beijing Copyright Bureau Wang Yefei said.

Among those taking part in the public destruction was Feng Xiaogang, a renowned film direc-tor who was appointed as the 2005 spokesman for copyright protection.

Feng said at a forum held after the event that everyone should take action to fight against piracy. He said Beijing's reputation will not be worthy of hosting the 2008 Olympics if it fails to root out piracy.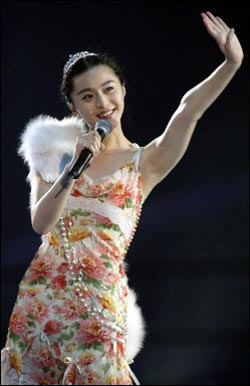 Popular actress cum singer Fan Bingbing performs at an anti-piracy campaign Saturday in Beijing. [AFP]

Wang Ziqiang, spokesman for the National Copyright Administration was quoted by Xinhua News Agency as saying that despite repeated government crackdowns, intellectual property infringement is still rampant in China.

Statistics show that copyright authorities across China confiscated more than 85 million pirated products last year, 25 per cent more than in 2003.

"We do not know when the problem can be solved, but we do know China will take up the challenge," Wang said.

Yan Xiaohong, deputy chief of the administration, said officials have set "fewer complaints, more action" as their guideline for IPR protection in 2005. "China will absolutely fulfil its commitments to the world," Yan said.

At the forum, a Beijing anti-piracy declaration was issued by the China Audio-Video Association, which promises that the industry will not publish, produce, sell, use and spread pirated products.

On Saturday night, about 100 Chinese music celebrities gathered at Beijing's Capital Stadium to sing for public support in the fight against rampant music piracy.

(China Daily 02/28/2005 page2)




Today's Top News
Top China News

Criminal penalties pondered for aborting females




Taiwan urged to back '1992 Consensus'




'Baby' is Oscar heavyweight with 4 wins




Securities legislation protects investors




Kitty Hawk sailor to appear in HK court




Iran, Russia sign nuke deal opposed by US