Jazz defeat slumping Rockets 99-92
(Agencies)
Updated: 2005-02-28 09:23
Matt Harpring scored 28 points, and Raja Bell added 21 to lead the Utah Jazz to a 99-92 victory over the Houston Rockets on Sunday.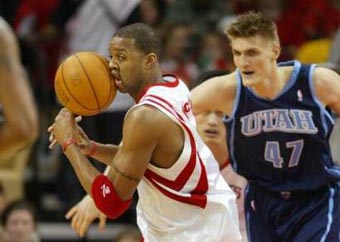 Houston Rockets forward Tracy McGrady (L) struggles to get a pass from teammate Yao Ming under control as Utah Jazz forward Andrei Kirilenko (47) of Russia closes in during their NBA game in Houston, February 27, 2005. [Reuters]

Houston, which led by as many as 10 points in the first half, has dropped three straight after winning eight in a row.

Bell's 3-pointer with 8:51 remaining capped five straight points by the Jazz and put Utah ahead 78-73. Utah used an 8-2 run that ended with Bell's tip-in basket with 4:40 remaining to extend the lead to 88-78.

Bell was perfect from 3-point range, going 3-of-3 — all coming in the second half.

Mike James' 3 with 1:10 left got Houston to 96-89, but the Rockets would get no closer. He hit another 3 with 11 seconds left.

Harpring scored eight points for the Jazz in the last 4 minutes to ensure the win.

The game was tied at 42 at halftime and again at 69 after three quarters.

Tracy McGrady led the Rockets with 23 points and James, in his first game with the Rockets, added 19. He started after being traded from Milwaukee last week.

The Rockets haven't won since starting point guard Bob Sura has been out with a back injury.

Mehmet Okur added 14 points and had nine rebounds for the Jazz, and Andrei Kirilenko had 13 points.

Houston got just 12 points from Yao Ming, who averages 18.7 points. He got in foul trouble early and struggled throughout, missing at least three baskets from right under the basket.




| | |
| --- | --- |
| | |
| Tiozzo regains his title | |

| | |
| --- | --- |
| | |
| The 2005 grand prix world championship season | |

| | |
| --- | --- |
| | |
| Tiger woods advances in Accenture | |
Today's Top News
Top Sports News

Criminal penalties pondered for aborting females




Taiwan urged to back '1992 Consensus'




Securities legislation protects investors




Kitty Hawk sailor to appear in HK court




Iran, Russia sign nuke deal opposed by US




Wen calls for more efforts to curb corruption