Iran, Russia sign nuke deal opposed by US
(Agencies)
Updated: 2005-02-28 09:13
Russia and Iran signed a nuclear fuel supply deal long opposed by Washington Sunday, paving the way for Iran to start up its first atomic reactor next year.
The agreement, inked by the two countries' nuclear energy chiefs at the Bushehr atomic plant in southern Iran, came as Tehran faced heightened pressure from the United States, which accuses it of secretly developing nuclear weapons.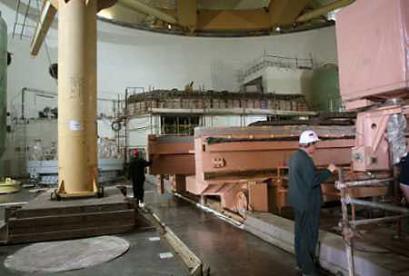 An interior view of the Bushehr nuclear power plant, some 1,000 kms south of Tehran, February 27, 2005. [Reuters]
Iran, OPEC's second largest oil producer, denies the charge and has received strong backing from Moscow, which is keen to play a major role in expanding Iran's nuclear energy program.
"This is a very important incident in the ties between the two countries and in the near future a number of Russian experts will be sent to Bushehr to equip the power station," Iranian state television quoted Alexander Rumyantsev, head of Russia's Federal Atomic Energy Agency, as saying.
A key part of the agreement obliges Tehran to repatriate all spent nuclear fuel to Russia. Moscow hopes this will allay U.S. worries that Iran may use the spent fuel, which could be reprocessed into bomb-grade plutonium, to develop arms.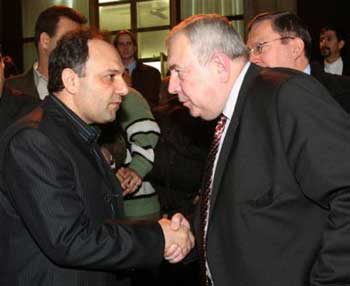 Russia's Federal Atomic Energy Agency head Alexander Rumyantsev, right, shakes hands with Vice-President of the Atomic Energy Organization of Iran, Mohammad Saeedi, at Mehrabad airport in Tehran Friday Feb. 25, 2005. [AP]

The International Atomic Energy Agency (IAEA), which has been probing Iran's nuclear program for over two years, said it would also keep a careful eye on Tehran's use of the fuel.

Spokeswoman Melissa Fleming said inspectors would "monitor closely the use of the fuel and where it goes" as part of agency safeguards monitoring aimed at ensuring no nuclear materials are diverted to any covert weapons activities.

A leading US Republican senator said the United States should seek to bar Russia from this year's summit of major nations to protest against Moscow's actions including the fuel deal.

"The United States and our European allies should start out by saying, 'Vladimir, you're not welcome at the next G8 conference,"' said Senator John McCain, an influential member of the Senate Armed Services Committee. The next summit of the Group of Eight major nations, which includes Russia, is scheduled to be held in Scotland in July.

The White House had no immediate comment on the signing of the supply agreement.

Rumyantsev said Bushehr would start operating in late 2006.

"We are planning the physical launch at the end of 2006. About half a year before this the first delivery of fuel will take place," the Itar-Tass news agency quoted him as saying.

FUEL FROM SIBERIA

Iranian officials put the plant's launch about six months earlier in mid-2006. Diplomats in Tehran said they may have been referring to the reactor's initial test phase.

Rumyantsev said the first batch of enriched uranium fuel was in Siberia ready to be shipped.

Disagreements over the timing of the shipment had delayed the deal, due to be signed in Tehran Saturday. Tehran wanted Russia to send the fuel earlier, Iranian officials said.

Iran said long delays in signing the agreement, which has been under negotiation for more than two years, were technical and had nothing to do with pressure exerted by Washington, which wants Russia to halt nuclear cooperation with Iran.

"My understanding is that international developments have had no effect on this contract," Mohammad Saeedi, deputy head of Iran's Atomic Energy Organization, told state radio.

Once operational, Bushehr will generate 1,000 megawatts of electricity. Initiated before Iran's 1979 Islamic revolution and badly damaged during the 1980-88 Iran-Iraq war, the project was later revived with Russian help and has cost about $800 million.

Iran has announced plans to build several more power plants, generating 7,000 MW from nuclear power by 2021. Russia hopes to claim a significant share of this new business.

The Bushehr power station has aroused less concern in the West than Iran's plans to produce its own nuclear fuel for future reactors using uranium mined, processed and enriched inside the country.

The European Union and United States want Iran to scrap its uranium enrichment plans entirely. Iran has refused but has suspended enrichment while it tries to reach a negotiated settlement with the European Union.




Today's Top News
Top World News

Criminal penalties pondered for aborting females




Taiwan urged to back '1992 Consensus'




Securities legislation protects investors




Kitty Hawk sailor to appear in HK court




Iran, Russia sign nuke deal opposed by US




Wen calls for more efforts to curb corruption