Kitty Hawk sailor to appear in HK court
(Xinhua)
Updated: 2005-02-28 09:03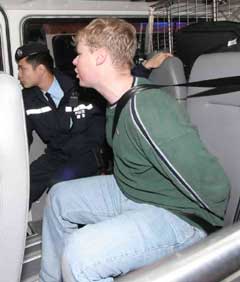 A 27-year-old sailor from the USS Kitty Hawk (right) is arrested by police in Hong Kong for punching a local taxi driver and police officer on Saturday morning after a drinking bout. He will be brought today to court, where it will be decided whether he will be sent back to the United States Navy for punishment. [newsphoto]

A sailor from the USS Kitty Hawk will be brought to court in Hong Kong on Monday for punching a police officer and a taxi driver.

A spokesman from Hong Kong Police Force said on Sunday that the court will decide whether the sailor will be sent back to United States navy to receive punishment.

The 27-year-old sailor was drunk on Saturday morning and hit a taxi driver before striking a police officer on his eye.

The USS Kitty Hawk strike group pulled into Hong Kong port Friday to get replenishment.

During the USS Kitty Hawk's last call to Hong Kong in March 2004, a sailor from the aircraft carrier died in Hong Kong after drinking too much alcohol.

Though the visit by the aircraft carrier and its attendant group of warships were delayed for at least four hours by heavy fog, the length of time has done nothing to diminish the anticipation and excitement of sailors as they sailed into Hong Kong.

"Port visits, such as this one, are a great way to demonstrate our friendship and the awesome capability of our forward-deployed strike group," Rear Adm Jamie Kelly, commander of Carrier Strike Group 5, said at a news briefing held on Kitty Hawk.

He added that Hong Kong is absolutely a favorite stop for servicemen because of its world-class shopping and cultural attractions.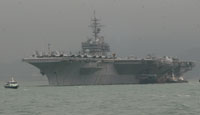 The USS Kitty Hawk strike group pulled into Hong Kong port on Friday to receive replenishments. [newsphoto]

The commander did not tell how many days the strike group will stay, but normally the military ships dock in for two to six days.

The Kitty Hawk Strike Group is the largest carrier strike group in the Navy and is composed of the aircraft carrier USS Kitty Hawk(CV 63), Carrier Air Wing (CVW 5), the guided-missile cruisers USS Chancellorsville (CG 62) and USS Cowpens (CG 63) and Destroyer Squadron (DESRON 15).

USS Kitty Hawk is America's oldest active ship and is the first of the modern "super carriers" commissioned on April 29, 1961. The44-year-old ship is due to replacement in 2008.




Today's Top News
Top China News

Criminal penalties pondered for aborting females




Taiwan urged to back '1992 Consensus'




Securities legislation protects investors




Wen calls for more efforts to curb corruption




Syria hands Saddam's half-brother to Iraq




730 mln farmers to pay no agricultural taxes