EU must compromise on nuke issues - Iran official
(Agencies)
Updated: 2005-02-28 08:53
The European Union must be prepared to reach a compromise with Tehran that will keep Iran's nuclear enrichment program in place, a senior Iranian official says.
Washington says Tehran must accept a deal being offered by the EU or be referred to the Security Council for possible sanctions.
Under the proposed deal, Iran would scrap work like fuel enrichment that could potentially be related to weapons production in return for trade deals and other incentives.
But Sirus Naseri, Tehran's delegate at a meeting of the International Atomic Energy Agency (IAEA) starting on Monday, said Iran would never give up its enrichment program.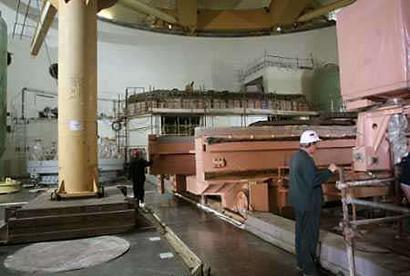 An interior view of the Bushehr nuclear power plant, some 1,000 kms south of Tehran, February 27, 2005. Russia and Iran signed a nuclear fuel supply deal long opposed by Washington which paves the way for Tehran to start up its first atomic power plant next year, state media reported. [Reuters/Handout]

He said the EU must be prepared to compromise on this.

"Otherwise they will have to opt for a confrontation, as the U.S. seems to prefer, which would lead to an uncertain situation with unforeseeable consequences for everyone," Naseri said. "I think the Europeans will opt for reason."

Iran says its nuclear intentions are limited to the peaceful generation of electricity. Washington says the program is a front to build a bomb.

Iranian officials meet next month with negotiators from the EU's "big three" -- Britain, France and Germany -- for a new round of nuclear talks. The EU trio has insisted Iran must give up enrichment to convince the world its atomic plans are peaceful.

A U.S. threat to renew its drive to refer Iran to the Security Council in June if it rejects EU demands -- outlined in a confidential draft U.S. position paper -- would effectively end the EU plan.

Avoiding the U.N. council is a key element of an EU-Iran agreement signed in Paris last year. Iran's nuclear planners scored a major victory on Sunday when they signed a supply fuel deal with Russia long opposed by Washington, paving the way for a start up of Iran's first atomic power plant next year.

"GET USED TO IT"

Naseri said both Washington and the EU should get used to the idea of a nuclear-powered Iran.

"Some of the wiser American strategists like (Zbigniew) Brzezinski and Henry Kissinger have suggested that the U.S. simply has to get used to the idea of an Iran with nuclear capability," he said.

"Iran is prepared to assure the world that it maintains a peaceful program."

For the first time in nearly two years, IAEA chief Mohamed ElBaradei did not present a written report to Monday's meeting of the IAEA's 35-nation Board of Governors about its probe of Iran -- a probe that has uncovered no hard proof of a bomb plan.

Diplomats close to the U.N. said ElBaradei would confirm Iran has frozen its enrichment program as promised, despite EU worries that Iran's recent quality-control tests of centrifuge parts violated the spirit of the suspension. Nevertheless, they said the board would not pass any resolutions condemning Tehran.