Securities legislation protects investors
By Xu Binglan (China Daily)
Updated: 2005-02-28 07:51
Small investors' interests are high on the agenda in the revision of China's Securities' Law, which will be deliberated by China's legislature later this year.
But the country's legal system still needs improvement to enable investors to make full use of the Securities Law, including taking steps like "collective action" against listed companies that cheat, said a senior lawmaker.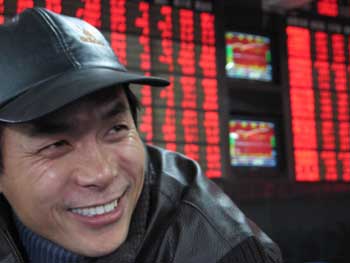 The unidentified stock trader smiles at a securities company office in Fuyang, Anhui Province in this photo taken on February 22, 2005. China ponders revisions to the Securities Law to better protect the interests and rights of small investors and shareholders. [newsphoto]

Cheng Siwei, vice-chairman of National People's Congress' Standing Committee, said the drafting of a revised Securities Law has been completed.

The draft is expected to be submitted to NPC's Standing Committee at its meeting in April. But when the revision will be passed depends on lawmakers' views on the draft, he said in an interview with China Daily.

"Protection of small investors is among the key points in our guidelines for the revision," he said.

The law is under revision at a time when investors' confidence in the stock market is at a painfully low point. The market has been in the doldrums for three years due to most listed companies' persistently bad performance, a slew of corporate scandals and the government's aborted attempts to correct the market's structural problems.

Current rights

The current Securities Law already contains clauses about investors' rights to sue listed companies for publishing fake information, for insider trading and malicious manipulation of the market, among other ills. But the clauses are not very practicable because of a lack of specific stipulations for such litigation in the law itself and related laws such as Civil Procedure Law and Company Law.

"We have the clauses (for suing listed companies), but to implement them is very difficult," Cheng said.

In 2003, the Supreme People's Court promulgated a set of guidelines on the issue, which said the local courts can only accept cases about fabricated statements, which basically ruled out investors' chances for taking listed companies to court for other misbehaviour.

Cheng made a special reference to collective action, something close to so-called "class-action lawsuits" often used in the United States. That refers to investors hiring the same law firm to sue a fraudulent company to go after compensation.

Cheng said collective action could be a good way for Chinese investors whose interests were hurt by wrongdoing by listed companies.

Collective action

The 2003 guidelines did say investors could use collective action, but there were still no answers on questions like the minimum number of plaintiffs for a collective action and requirements for the representatives in a collective action.

There are no official statistics on the number of collective cases against listed companies. All the well-known cases in which companies have fabricated statements were punished by financial market watchdogs and have received subpoenas for cases filed by individual investors.

However, so far, only one case has generated a verdict. In December 2004, the Higher Court of Heilongjiang Province in Northeast China announced its final ruling on a case brought by 546 investors against the Shanghai-listed Daqing Lianyi Petrochemical Co Ltd. The ruling marked the first victory by China's small investors in their attempts to demand compensation from a cheating company.

No other cases have had verdicts although courts have accepted many such cases and have even completed trials for some.

Cheng said in addition to the protection of small investors, lawmakers will also take into consideration such major issues as improvement of the stock market as a place to invest and introduction of more funds into the market.

Cheng said the stock market's function as a venue for investment was mistakenly down-played in its first years. Many viewed the market more as a place to raise money. This has led to the negligence of listed companies' quality and their returns for small investors' input.

The result is listed companies' bad performance and small investors' diminishing confidence in the stock market. "It should be stressed that the stock market should be able to bring reasonable earnings for general investors," he said.

To save the troubled stock market, enhancing quality of listed companies should be the prime task, Cheng said.

Efforts should be paid to encourage the emergence of some real blue chip companies, which can generate stable earnings every year. On the other hand, the government should become more determined to delist poor-performing listed companies. "Now it is still a tough issue. All the local governments don't want their companies to be delisted. They would try all they can to rescue them."

Cheng said the government should continue to encourage the growth of institutional investors such as mutual funds. Dozens of securities investment funds have been set up. But their operations have various problems.

"Regulation and supervision of them should also be strengthened. The principle should be the same as for that in listed companies. The system should ensure that individual investors can distinguish good ones from bad ones," he said.

"So the investors just wouldn't buy the funds that cannot provide good services," he said.

Cheng said that lawmakers, in reviewing the draft of the revised Securities Law, will consider the feasibility of allowing credit trading, which means investors borrow money or stocks in stock trading.





Today's Top News
Top China News

Criminal penalties pondered for aborting females




Taiwan urged to back '1992 Consensus'




Securities legislation protects investors




Kitty Hawk sailor to appear in HK court




Iran, Russia sign nuke deal opposed by US




Wen calls for more efforts to curb corruption