Criminal penalties pondered for aborting females
By Hu Cong (China Daily)
Updated: 2005-02-28 07:47
Doctors performing selective abortions or exposing the gender of fetuses may face jail terms, say senior legislators worried about the country's gender imbalance.
The lawmakers are also mulling changes to criminal law that target those practices.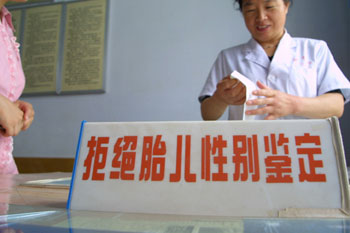 A doctor rejects a woman's request to tell her the sex of her baby in Liaocheng, Shandong Province in this August 6, 2003 file photo. Chinese lawmakers are calling for criminal penalties for doctors performing selective abortions or exposing the gender of fetuses. [newsphoto]

At a discussion on Saturday, members of the Standing Committee of National People's Congress (NPC) called for a new criminal law clause against selective abortion and fetal gender identification for non-medical purposes.

"The gender imbalance will affect marriages for a certain period in the future and add to social instability," standing committee member Xu Zhihong said at the discussion.

Selective abortion also harms the health of women and in the majority of cases tragically ends the life of female fetuses, said Xu, who is also president of Beijing University.

China in history saw the birth of sons as preferable since they were viewed as being more able to provide for their families, or better able to support elderly parents or to carry on the family line.

The belief lingers on in some rural areas where men do most manual work to support the family.

The country's family planning policy allows most couples to have just one child.

The persisting bias for boys by some people means they decide to abort an expected child if it is found to be a girl. Others give birth and leave their baby girls at the hospital or local orphanages.

Though the practice of providing ultrasound scans and telling parents a child's sex is illegal, many corrupt clinics accept money and do so anyway. Some accept bribes and reveal the information to parents.

The country's birth gender ratio has risen to about 117 boys to 100 girls, compared to 108 boys to 100 girls in 1982.

The lawmakers are considering whether to upgrade the punishment - now just fines and some administrative measures - into criminal law sanctions. There is only a charge on people who have no medical certificate but conduct abortions.

Some 10-plus NPC Standing Committee members are proposing to add a criminal article targeting on licensed doctors who reveal the sex of fetuses or conduct abortions for non-medical purposes.

But some are adding a note of caution. "Revealing the sex of a fetus is against professional ethics but it alone is not up to the level of criminal offence," said Qiu Xinglong, a law professor of the Xiangtan University based in the central province of Hunan.

He said the identification is punishable only when it leads to selective abortion.

"Having a rule to deter abortion is no problem, but where to draw the lines is an issue lawmakers need to tread upon carefully."




Today's Top News
Top China News

Criminal penalties pondered for aborting females




Taiwan urged to back '1992 Consensus'




Securities legislation protects investors




Kitty Hawk sailor to appear in HK court




Iran, Russia sign nuke deal opposed by US




Wen calls for more efforts to curb corruption