Iran, Russia delay nuclear fuel deal
(Agencies)
Updated: 2005-02-26 23:23
TEHRAN, Iran - Last-minute disputes Saturday forced Iran and Russia to postpone the signing of an agreement to supply Iran with fuel for its first nuclear reactor, a deal strongly opposed by the United States.
Russia and Iran's top nuclear officials had been set to sign the agreement Saturday morning, a day after a summit between the U.S. and Russian presidents.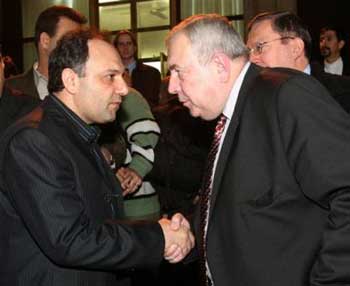 Russia's Federal Atomic Energy Agency head Alexander Rumyantsev, right, shakes hands with Vice-President of the Atomic Energy Organization of Iran, Mohammad Saeedi, at Mehrabad airport in Tehran Friday Feb. 25, 2005. Rumyantsev, arrived in Tehran to sign a key deal to supply Iran with enriched fuel for its first nuclear reactor on condition that the spent fuel is returned. [AP]

Mohammad Saeedi, deputy head of the Atomic Energy Organization of Iran, attributed the postponement to differences over the delivery time of the first shipment of fuel and the launch of the Bushehr nuclear power plant.

Saeedi said the deal may be signed Sunday in Bushehr, the southern town where Iran's first reactor was built, using Russian help.

Under the agreement, Russia will provide Iran with fuel and take back the spent fuel, a safeguard meant to banish fears Iran would misuse it to build nuclear weapons. U.N. nuclear experts also would monitor the facility.

Still, Washington has pressed Moscow to call off the deal, saying the Iranians could use the Bushehr reactor as part of a nuclear weapons program. Thursday's summit in Bratislava, Slovakia, between US President Bush and Russian President Vladimir Putin touched on American concerns, but Putin has said he is sure Iran does not intend to build nuclear weapons and Russian cooperation with the country would continue.

On Saturday, diplomats familiar with the work of the U.N. atomic watchdog agency said Iran used its links to the black market to accumulate the knowledge it needed by the late 1980s to set up technology that can be used to make nuclear weapons.

The diplomats, who are familiar with the work of the Vienna, Austria-based International Atomic Energy Agency, spoke to The Associated Press two days before the IAEA board meets on Iran and other potential world nuclear concerns.

An agency probe over the past two years had previously established that Iran ran a clandestine nuclear program for nearly two decades, including working on uranium enrichment ! which can be used to make weapons.

The head of Russia's Federal Atomic Energy Agency, Alexander Rumyantsev, arrived in Tehran on Friday night ahead of the signing of the fuel supply agreement with Vice President Gholamreza Aghazadeh, the head of Iran's agency.

After hours of delay Saturday morning, Yacoub Jabbarian, an official at Iran's Atomic Energy Agency, said the talks had been prolonged and it was unclear when the signing would take place.

An Iranian nuclear official speaking on condition of anonymity said "deep differences" had arisen, but the official would not elaborate.

Saeedi said the two sides had reached an understanding on two parts of the deal ! the return of spent fuel and financial issues.

"We hope to reach a final agreement later today" on when the first fuel shipment will be sent, Saeedi said.

The agreement has been repeatedly delayed by what Iranian and Russian officials called technical and financial details. But diplomats in Vienna, Austria ! where the U.N. nuclear watchdog agency, the International Atomic Energy Agency, is based ! say U.S. pressure on Russia also held up the deal.

The United States accuses Iran of seeking to develop nuclear weapons ! a claim denied by Tehran, which has agreed to IAEA monitoring at Bushehr and says its nuclear program aims only to produce electricity. The United States has long urged Moscow to conclude its assistance to Iran's nuclear development.

Russia helped build the $800 million reactor at Bushehr, whose construction is now complete. It is a light-water reactor capable of generating 1,000 megawatts of electricity. Experts say spent fuel from the Bushehr reactor could be used to produce enough plutonium to make 30 rudimentary atomic bombs a year.

Russia could be delivering nuclear fuel to Iran within two months of the deal's signing, Rumyantsev spokesman Nikolai Shingarov told The Associated Press last week.

Russian officials insist that the deal to return the spent fuel would make it impossible for Iran to divert the fuel for a weapons program.

After the agreement is signed, "there will be no grounds to state that Iran may use nuclear fuel for other than peaceful purposes," the Russian ambassador to Iran, Alexander Maryasov, was quoted as saying Friday by Russia's ITAR-Tass news agency.