Smoking ups impotence risk in younger men
(Agencies)
Updated: 2005-02-26 08:45
NEW YORK - Adding to evidence that smoking is bad for a man's sex life, new study findings show that smoking may raise the risk of impotence, particularly in younger men.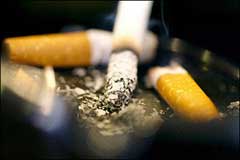 A cigeratte burns in an ash tray in this undated file photo. Researchers have found that smoking may raise the risk of impotence, particularly in younger men. [AFP]

Researchers found that among the more than 1,300 men they followed, those who smoked were at greater risk of erectile dysfunction (ED) than either former smokers or non-smokers.

Smokers in their 40s, the youngest group in the study, showed the highest smoking-related risk. Compared with other men their age, they were nearly three times more likely to have erectile dysfunction. Smoking was also linked, to a lesser extent, to impotence among men in their 50s and 60s, but not among those in their 70s.

This age difference is not surprising, according to Drs. Naomi M. Gades and Steven J. Jacobsen of the Mayo Clinic College of Medicine in Rochester, Minnesota, two of the authors of the study.

Older men often have a number of risk factors for impotence, including diabetes, heart disease and high blood pressure. In younger men, Gades and Jacobsen told Reuters Health, the association between smoking and impotence is less likely to be "masked" by these other medical conditions.

"Smoking may have a more apparent impact on erectile dysfunction in young male smokers than it does in older male smokers," the researchers report in the current issue of the American Journal of Epidemiology.

A number of past studies have pointed to the impotence risk associated with smoking. Though the reasons aren't fully clear, it's thought that the effects of smoking on the blood vessels may impair blood flow to the penis, leading to problems with maintaining an erection.

It's known that conditions in which blood circulation is impaired -- such as high blood pressure and heart disease -- raise the risk of erectile dysfunction. Increasingly, Gades and Jacobsen noted, men diagnosed with ED are being referred for cardiovascular work-ups, since the condition could be a sign of underlying artery disease.

The new findings, according to the researchers, support the idea that smoking is a direct cause of ED because the study found a "dose-response" relationship between the condition and men's smoking habits. This means that the more men smoked over their lives, the greater their risk of impotence was.

Some public health campaigns, the study authors note, have emphasized the fact that smoking may be a risk factor for ED. The rationale has been that while younger men may not be swayed by the far-off prospect of lung cancer, emphysema or heart disease, the risk smoking presents to their sex lives may grab their attention.

These messages, the researchers write, "may be well founded."




| | |
| --- | --- |
| | |
| Diving prince guest performs in an album | |

| | |
| --- | --- |
| | |
| Fish with a head resembling a tiger attracts visitors in Shandong | |

| | |
| --- | --- |
| | |
| 2005 Mrs. World crowned | |
Today's Top News
Top Life News

China to gradually open capital account in 2005




EU commissioner: It's time to lift arms ban




Beijing moves to expand flights with Taiwan




China National Coal plans US$1 bln HK IPO




India considers China, US its top partners




Expedition to Diaoyu Islands slated for May