Tel Aviv suicide bombing kills up to five
(Agencies)
Updated: 2005-02-26 08:08
A Palestinian suicide bomber blew himself up in a crowd of young Israelis waiting outside a nightclub near Tel Aviv's beachfront promenade just before midnight Friday, killing up to five people, wounding dozens and shattering an informal Mideast truce.
About 20 to 30 people were waiting to get into the Stage club on Herbert Samuel street, close to the promenade. "I was near the club. There were about 20 people outside. Suddenly, there was an enormous explosion," said a witness, identified only as Tsahi.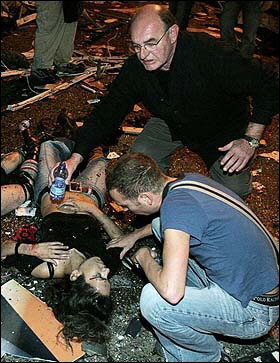 Wounded Israelis are helped by civilians after an explosion rocked in the Israeli city of Tel Aviv. Five people were killed and dozens wounded in a suicide attack in a seaside discotheque in Tel Aviv, Israeli public radio said. [AFP]

There were conflicting reports of who was behind the attack. Israeli media said the militant group Islamic Jihad claimed responsibility. But one of the group's leaders in the Gaza Strip, Nafez Azzam, said it was continuing to honor the cease-fire.

Palestinian security officials, speaking on condition of anonymity, said the Lebanese militant group Hezbollah orchestrated the blast. They said they had tracked recent communications between Hezbollah militant Kais Obeid and an unidentified Palestinian who they believed was the attacker.

But a Hezbollah official in Beirut denied involvement. "As far as we are concerned, there is no need to respond to such lies that we have become used to it," the official said.

Hezbollah has emerged as the biggest threat to the fragile Israeli-Palestinian truce, with Lebanese guerrillas offering West Bank gunmen thousands of dollars to attack Israelis. The Iranian-funded Lebanese guerrillas, who have hundreds of West Bank gunmen on their payroll, have stepped up pressure recently.

Friday's blast ripped off the front of the nightclub, shattering windows of nearby restaurants and blackening nearby cars. Dozens of ambulances and rescue workers pored through the scene, and police scoured the balconies of nearby buildings in search of evidence. Several covered bodies and a pool of blood lay on the ground.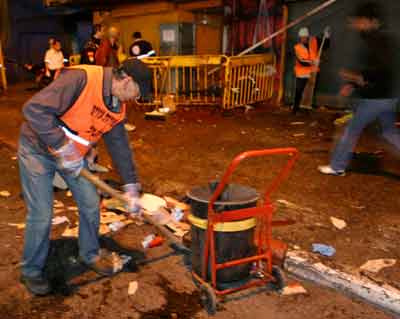 Israeli workers clean the scene of a suicide blast in Tel Aviv early February 26, 2005. [Reuters]

Israeli rescuers said there were five dead, while other reports said three were killed. Israeli army radio said at least 55 people were wounded.

It was the first suicide bombing since Israel and the Palestinians declared an informal cease-fire on Feb. 8 meant to end more than four years of fighting. It also was the first suicide attack since a bomber killed two people in a Tel Aviv market on Nov. 1.

Saeb Erekat, the chief Palestinian peace negotiator, condemned the attack "in the strongest possible terms."

"Whoever is behind it is seriously attempting to sabotage all efforts being exerted to revive the peace process and should not be allowed to succeed," he said.

The Tel Aviv promenade has been hit before by Palestinian militants, including explosions outside the Dolphinarium disco and Mike's Place, a popular pub.

On Feb. 12, Islamic Jihad and another militant group, Hamas, said they were adhering to a de facto truce with Israel, but stopped short of committing to the official cease-fire that Palestinian leader Mahmoud Abbas and Israeli Prime Minister Ariel Sharon agreed on at their summit.

The cease-fire was carefully orchestrated with officials from the United States as well as host Egypt and other moderate Arab countries.




Today's Top News
Top World News

Beijing moves to expand co-operation with Taiwan




EU trade commissioner criticizes arms ban




Shadows still hang over US-Russian ties




Tel Aviv suicide bombing kills up to five




Amendment allows single-person firms




New Henan health checks prove controversial