Crisis countermeasures drawn up
By Ling Hu (China Daily)
Updated: 2005-02-26 01:57
The State Council has put together an emergency contingency package in answer to the frequent disasters and accidents in China that have killed more than 200,000 each year over the past decade.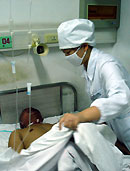 A doctor treats a man who was injured during an explosion in Jiangsu Province. The State Council has drawn up countermeasures in answer to the country's frequent accidents and disasters. [newsphoto]

The 106-item package means the country's first nationwide contingency framework has taken shape, said a State Council report delivered to the Standing Committee of the National People's Congress (NPC) on Friday.

State Councillor Hua Jianmin read the report to senior legislators on behalf of the central government.

The package will lead to the establishment of an early warning system and improve the administration's ability to cope with emergencies, according to the report.

Natural disasters, accidents, public health and public security incidents combined to kill about 200,000 people in China last year, incurring more than 455 billion yuan (US$55 billion) of direct financial losses.

State leaders called for a counter-emergency mechanism in 2003 after the country suffered an outbreak of SARS (serious acute respiratory syndrome).

About 500 deputies moved for drawing up legislation on emergencies and strengthening emergency countermeasures at last year's NPC full session.

But coming up with countermeasures is not only about overcoming disasters, according to Mo Yuchuan, a professor of law at the Renmin University of China.

"Usually, government departments are granted great power and many mandatory measures during emergencies in order to overcome crises," said Mo. "But it does not mean they can do whatever they want or even abuse their mandate."

The counterplans should not only guide the handling of an emergency, but in a sense regulate and restrain the government by making clear the scope of its role," he said, adding that the emergency plans tally with the spirit of the rule of law.

The government report said many deaths could have been avoided had effective emergency countermeasures been in place, the stampede in Beijing's Miyun County in early 2004 which killed 37 being an example of this.

The State Council's new package will offer early warnings according to professional prediction and analysis. Four colours will be used to judge the severity of an emergency red, orange, yellow and blue.

Also required will be a genuine report to the State Council within four hours from a county government as well as the provincial government when a severe public emergency occurs within their jurisdictions.

Some local governments have already taken it upon themselves to establish such countermeasures. In Shanghai, the city's 17 government departments, including the public security department, water resources department, electricity supply department and the natural gas supply department, have jointly drawn up contingency plans.

Once a citizen dials "110," any one of the 17 departments will be on the scene within a short space of time.

The coastal province of Zhejiang has put together a comprehensive typhoon early warning system and emergency countermeasures.

In 2004, the local government evacuated local citizens in time after receiving an early typhoon warning, minimizing casualties and economic loss.

Formalizing a statute on emergencies is high on the NPC Standing Committee's 2005 legislative agenda.




Today's Top News
Top China News

Beijing moves to expand co-operation with Taiwan




EU trade commissioner criticizes arms ban




Amendment allows single-person firms




Crisis countermeasures drawn up




Top US general sees lasting Iraq insurgency




Tel Aviv suicide bombing kills up to five