British minister: EU may fall behind China
(Agencies)
Updated: 2005-02-25 09:26
Britain and the rest of Europe are at grave risk of falling behind China and other fast-developing nations unless they reform their economies and become more ambitious, British finance minister Gordon Brown has warned.
Speaking at the end of a three-day whistlestop trade tour of China, his first to the country, a clearly awed Brown spoke admiringly of the sights he had seen in Beijing, Shanghai and the southern boomtown of Shenzhen.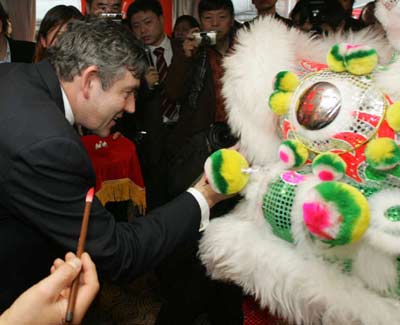 British Finance Minister Gordon Brown puts the finishing touch to a lion in Shanghai in the picture taken on February 22, 2005. [newsphoto]
"Before I came to China I understood the scale and significance of what was happening in China and Asia, as something that would affect us all," Brown told reporters shortly before leaving the country late Wednesday.
Now he was "more convinced than ever", the British Chancellor of the Exchequer said. "It has opened my eyes to the sheer scale of the challenge."
Unless Britain and the rest of the European Union woke up to the economic challenge being posed, "we will fall behind in the challenge from China and Asia", he warned.
The verdict was a telling one, coming as it does from one of the most powerful and successful finance ministers in the developed world, who had never previously seen at first hand the rapid changes in China, the globe's fastest-growing major economy.
Starting off in Beijing on Monday for talks with Chinese leaders such as Premier Wen Jiabao, Brown toured a series of factories and laboratories, all picked as examples of China's progress since it began economic liberalisation just over two decades ago.
Brown, who has served as finance minister under Prime Minister Tony Blair since 1997, was also visibly impressed after meeting a string of ambitious English-speaking Chinese teenagers during visits to a pair of schools.
"There is no doubt in my mind that when China is turning out two million graduates each year, we cannot afford for any young people in our country to be left behind," he told reporters in Shenzhen.
"When you look at what is happening in China, you know that we have got to do more in the future in order to compete," he said.
"We have got to raise our sights and raise our game, be more ambitious for the future."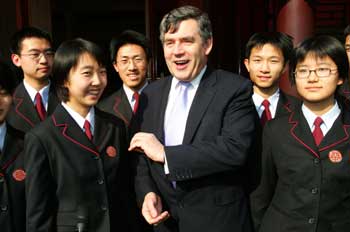 Britain's Chancellor of the Exchequer Gordon Brown chats with Chinese middle school students during his visit to China's capital Beijing February 21, 2005. [Reuters]
While Britain was moving "faster than some other countries" within the EU to free up its economy and innovate, the message was clear for the continent as a whole, he warned.
"There is a danger that Europe will be left behind."
Brown is set to be a key player in a British general election widely expected to be held on May 5, in which Prime Minister Tony Blair's government will be bidding for a third consecutive term in office.
The minister served notice that the lessons of the China visit would be reflected in his annual budget statement to parliament on March 16, an event with crucial importance given the looming poll date.
"I am more determined than ever, having seen what I have seen in China these last few days... that the Budget and the next phase of our government must show we can be a world leader in science, a world leader in education and a world leader in enterprise," Brown said.
"We have got to seize the China challenge, and not to succumb to it."
Today's Top News
Top China News

British minister: EU may fall behind China




South Korean nabbed in illegal banking




Direct cargo charter flights considered




Central bank warns of inflation threat




US says 'thousands' of missiles missing




Survey: China, India rival US competitiveness