Beijing chides Clinton for planned Taiwan visit
(Agencies)
Updated: 2005-02-25 08:53
China chided former US president Bill Clinton for his upcoming visit to Taiwan, saying he should know better.
"As a former US president he should know China's solemn position on the Taiwan question," foreign ministry spokesman Kong Quan told reporters.
"He should know how to act to honour a series of promises that the past US governments, including his, made to the Chinese government on the Taiwan question."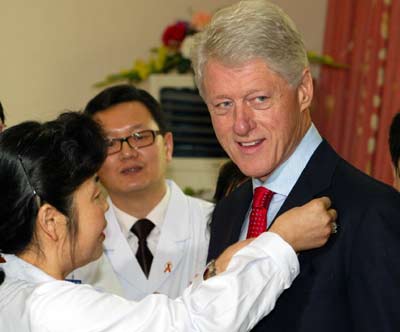 Zhao Chunhui, chief of the You'an Hospital in Beijing, puts on an AIDS ribbon for Former US President Bill Clinton at an AIDS ward of the hospital in Beijing February 24, 2005. Clinton signed an agreement with the Chinese Health Ministry on Wednesday for the Clinton Foundation to provide about $70,000 worth of drugs to treat some 200 infected Chinese children. [newsphoto]
These include the US promise to abide by the one-China policy and by the three joint communiques which form the basis of China-US relations, and to oppose Taiwan independence, he said.
Clinton is scheduled to meet Taiwan's pro-independence leader Chen Shui-bian and deliver a speech on Asia's democracy after his arrival in Taipei on Sunday, officials in Taiwan have said.
Beijing views Chen as a dangerous "splittist" who is leading Taiwan down the road toward formal independence, a move that Beijing said would be regarded as an act of war.
Chen has rejected Beijing's "one-China" policy which regards the island as part of its territory awaiting to be reunified by force if necessary.
Clinton is currently in Beijing on a low-key trip to promote AIDS awareness. His visit to Taiwan will be his first he left the White House in January 2001.
Today's Top News
Top China News

South Korean nabbed in illegal banking




Man who kidnaps schoolboy seized




Top bank warns of investment rebound




More sectors opened to private investors




ISO meeting fails to back WAPI standard




Jump in accidents makes driver exam harder