30 die in series of attacks across Iraq
(Agencies)
Updated: 2005-02-25 08:53
A suicide bomber wearing a police uniform blew up his car at police headquarters in Tikrit, killing at least 15 people in Saddam Hussein's hometown in the bloodiest of several attacks Thursday that claimed 30 lives. Two American soldiers were among the dead.
The suicide bombings and other attacks came as politicians negotiated behind the scenes to forge the alliances needed to win enough backing in the 275-seat National Assembly for the post of prime minister.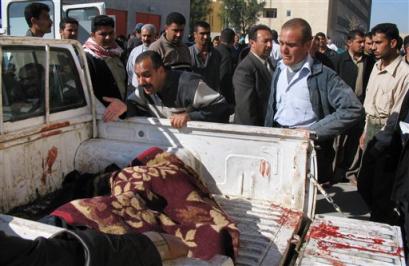 Unidentified Iraqi men grieve at the side of a pickup truck carrying one of the dead, after a man wearing a police uniform drove a car bomb inside the headquarters of police in Saddam Hussein's hometown of Tikrit in Iraq, setting off a massive explosion that killed at least 15 police and wounded 22 others Thursday, Feb. 24, 2005. [AP]

The U.S. command said two American soldiers were killed and two wounded in separate bomb attacks, one northeast of Baghdad in Qaryat, and a second near Samarra, west of Qaryat.

In the Sunni Arab stronghold of Tikrit, 80 miles north of Baghdad, a man dressed as a police lieutenant drove through the station's gates and blew himself up just as dozens of policemen were arriving to relieve colleagues who had worked through the night, police Col. Saad Daham said.

"He waited until the shift change, then he exploded the car," Daham said, adding the aim was "to kill as many as possible." At least 22 people were wounded.

Twenty cars were set ablaze after by the blast, sending up clouds of smoke. An Associated Press photographer saw at least 10 charred bodies on the ground, which was splattered with pools of blood.

A suicide bomber killed five other people in Iskandariyah, 30 miles south of the capital, when he blew himself up in front of the local headquarters of a key Shiite alliance member, the Shiite Supreme Council for the Islamic Revolution in Iraq.

Police initially said the attack targeted the police chief, Col. Salman Ali, who escaped unharmed.

In Baghdad, gunmen fired on a bakery, killing two people and wounding a third, police said. Several blasts echoed through the capital at midday and several more after nightfall. Their cause was not known.

Two roadside bombs in Qaim, near the Syrian border, killed four Iraqi National Guardsmen, Iraqi Lt. Col. Abid Ajab Al-Salmani said.

Elsewhere, insurgents ambushed a police patrol in the northern city of Kirkuk with a roadside bomb, killing two policemen and injuring three.

U.S. Marines and Iraqi troops, meanwhile, pressed a joint operation to root out insurgents in parts of the so-called Sunni triangle. The military said it detained 17 suspected insurgents and seized several weapons caches.

Politicians of all stripes sought out representatives of Iraq's Sunni minority, whose support they need to isolate the insurgency. Many insurgents are thought to be loyalists of Saddam's outlawed Sunni-dominated Baath Party.

A powerful Sunni organization believed to have ties with the insurgents, the Association of Muslim Scholars, rejected any role in the government — or even in writing a new constitution. Another Sunni group, the Iraqi Islamic Party, also rejected offers, but agreed to help with the constitution.

"Our stand is so clear because it represents the stand of the national forces which stand against the occupation, and have come to an agreement not to take part in the political process until the withdrawal of the occupiers," said the association's spokesman, Muthana Al-Dhari.

The dominant United Iraqi Alliance, which nominated Ibrahim al-Jaafari, leader of the Islamic Dawa Party, for prime minister claimed Thursday it won the support of eight members of three tiny parties and boosted its parliamentary strength to 148.

Alliance member Salama Khafaji said the groups were the Iraqi Turkoman Front, the National Independent Elites and the Islamic Labor Movement in Iraq.

But a splinter group thought to represent about 30 seats in the alliance, and which once supported onetime Bush administration favorite Ahmad Chalabi, renewed threats to withdraw its support. Although they issued no demands, it was unclear what Chalabi — who withdrew from the race — had promised them for their support.

Interim Prime Minister Ayad Allawi, the secular Shiite who has about 40 seats, tried to take advantage of the rift by attempting to open talks with the Shiite splinter group just one day after announcing he would form a broad coalition to try to hold onto his post.

Two days after al-Jaafari was nominated by the clergy-backed United Iraqi Alliance, the Shiite Political Council once allied with Chalabi again threatened to withdraw. The group claims to control 30 members of the National Assembly.

Ali Faisal, the council's political coordinator, said his group received two phone calls from Qassem Dawoud, a senior Allawi party member and interim national security adviser. He said Allawi was trying to win their support.

"Qassem Dawoud called twice and I didn't answer him because I know what they want," he said. "Several members of the alliance met with Allawi after the al-Jaafari nomination and in the coming few days we will decide our position. We might form a bloc in the assembly."

To make any headway, however, Allawi must also win support from a Kurdish coalition controlling 75 of the 275 seats.

They Kurds have indicated they will support al-Jaafari and the alliance if it meets key demands, including giving the presidency to one of their leaders — Jalal Talabani.

A two-thirds majority of the assembly is required for approval of the presidency — the first step in a complicated process of filling the top positions. For al-Jaafari to become prime minister, he must win the approval of his own Shiite alliance, including Chalabi's supporters, and an additional 44 legislators.




Today's Top News
Top World News

South Korean nabbed in illegal banking




Man who kidnaps schoolboy seized




Top bank warns of investment rebound




More sectors opened to private investors




ISO meeting fails to back WAPI standard




Jump in accidents makes driver exam harder