War saved me from court martial - Musharraf
(Agencies)
Updated: 2005-02-24 23:10
ISLAMABAD - Only war with India in 1965 saved Pakistan's President Pervez Musharraf from being court martialed.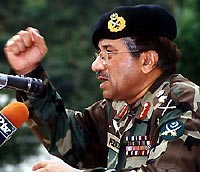 This story of an early brush with authority is how Musharraf opens an account of his personal and professional life in a letter posted on an official Web site opened on Thursday.
"As a young second lieutenant, court martial proceedings were initiated against me for another disciplinary infringement. War with India broke out just in time to block the proceedings.
"My subsequent war performance and a gallantry award finally saved me from the court martial," wrote Musharraf, who went on to become army chief before taking power in a bloodless 1999 coup.
Musharraf doesn't say what his crime had been, but a recent article in the Pakistani magazine "Blue Chip" said he had gone absent without leave.
Having survived two assassination attempts by Islamic radicals in December 2003, Musharraf's chances of interacting with ordinary Pakistanis has been much curtailed in the past year.
Instead, they can now send the general an e-mail through the Web site www.presidentofpakistan.gov.pk.
Musharraf said he was lucky to escape certain death three times -- other than during war -- before becoming army chief, a promotion he regarded as merited if close to a miracle.
He also survived three more assassination attempts while president.
"This makes for some kind of a record for the Guinness Book of Records. I call myself 'lucky'."
Hardline Pakistani Islamist groups allied to Osama bin Laden's al Qaeda were furious with Musharraf for siding with the United States in a global war on terror after the Sept. 11, 2001 attacks on U.S. cities.
PAKISTAN-INDIA RELATIONS
Musharraf also recounted his efforts to make peace with India, while refraining from going into details of the Kargil Operation in northern Kashmir in 1999.
Many Indians and Pakistanis suspect Musharraf played a key role in the border conflict that Pakistan maintains was conducted by Kashmiri freedom fighters.
Musharraf blamed the failure of a subsequent summit with then Indian Prime Minister Atal Behari Vajpayee in 2001 on the "negative influence of some radical Indian government functionaries, in particular Mr. Advani."
A hardliner, Lal Krishna Advani was India's home minister and deputy prime minister at the time.
A year later, the two countries stood on the brink of a fourth war with hundreds of thousands of soldiers facing each other.
"It became a trial of who blinked first. India blinked. We decided to move our forces back," according to Musharraf.
Since then Pakistan and India have tried to normalise relations, opening peace talks a year ago to resolve all disputes, including Kashmir, the cause of two of their wars.
Musharraf also said one of his most "embarrassing" moments as president was the admission a year ago by Abdul Qadeer Khan, the father of Pakistan's atomic bomb, that he had sold nuclear secrets to Iran, Libya and North Korea.
Talking to journalists after inaugurating the Web site, Musharraf said Khan, who is under virtual house arrest in Islamabad, would not be handed over to any other country, and any further questioning would be carried out by Pakistani security.

Today's Top News
Top World News

South Korean nabbed in illegal banking




Man who kidnaps schoolboy seized




Progress in people's legal rights




Top bank warns of investment rebound




More sectors opened to private investors




ISO meeting fails to back WAPI standard