Palestinians to hold thrice-delayed vote on cabinet
(Agencies)
Updated: 2005-02-24 10:00
Palestinian Prime Minister Ahmed Qurie will seek parliamentary approval on Thursday for a new cabinet, after defusing a crisis by meeting lawmakers' demands to name more reformists and fewer Arafat loyalists.
By drawing up a new list of ministers, Qurie avoided being forced out. The new cabinet is considered crucial to efforts to overhaul the corruption-plagued Palestinian Authority amid peace moves with Israel.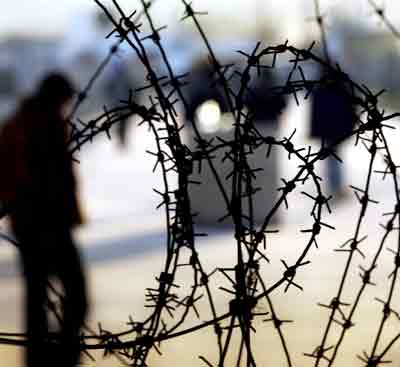 A Palestinian man waits to cross Erez border crossing between Gaza Strip and Israel February 23, 2005. The Palestinian prime minister failed to win approval for his new cabinet for the third successive day on Wednesday in a deepening crisis with lawmakers demanding more reformers and fewer Yasser Arafat loyalists. [Reuters]

After three successive days of postponing a vote, the Palestinian legislature scheduled a midday session on Thursday to ratify the cabinet, assuming that no last-minute obstacles emerge, officials said.

The meeting was scheduled after Palestinian President Mahmoud Abbas intervened late on Wednesday to win approval from younger lawmakers who had sought to sweep away the corruption-tainted vestiges of Arafat's era.

After four hours behind closed doors at Abbas's headquarters in the West Bank city of Ramallah, Qurie told reporters: "It is over and it (the confidence vote) is going to be held tomorrow."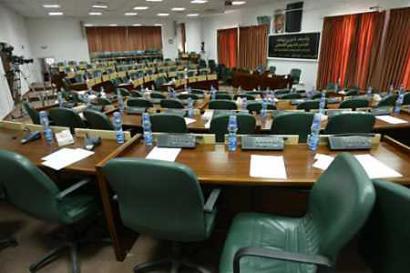 A general view of empty Palestinian Legislative Council in the West Bank town of Ramallah, February 23, 2005. Palestinian Prime Minister Ahmed Qurie won the agreement of lawmakers for a new cabinet on Wednesday after a third successive day of crisis over demands for more reformers and fewer Yasser Arafat loyalists. [Reuters]

Officials said Qurie had named more technocrats, and nearly three quarters of the cabinet -- 17 of 24 ministers -- were newcomers, while all but one do not serve in parliament, as dissenting lawmakers of the dominant Fatah faction had demanded.

Qurie's initial cabinet, presented on Monday, had contained only four new faces.

Nasser Yousef and Mohammed Dahlan, Abbas loyalists chosen to help him reform the Palestinian Authority and its security services, had agreed to join the new government, officials said.

Qurie, an Arafat appointee himself, had managed to retain his original choice of longtime Arafat ally Nabil Shaath, who is to become deputy premier and information minister.

But he was forced to drop at least four other loyalists of the late Palestinian icon, among them cabinet minister Saeb Erekat, a spokesman who had worked with Arafat for years.

"We have reached an agreement with brother Abu Ala," lawmaker Salah Tamari told Reuters, using a common nickname for Qurie. "The majority of Fatah lawmakers will vote in favor of his cabinet."

A new government is key to Abbas's bid to clean up the Palestinian Authority and merge a dozen often competing security services to deal more effectively with anti-Israel militants -- steps demanded by the United States and other big donors.




Today's Top News
Top World News

Vice-governor loses job for coal mine accident




Bidding starts on high-speed railway




Nation seeks energy efficient buildings




Clinton hails China AIDS progress, offers Help




New rules regulate petitioning




Chirac calls on EU to lift arms embargo