Rescuers expect Iran death toll to rise
(Agencies)
Updated: 2005-02-24 08:42
Rescue teams using dogs and heavy machinery pulled more bodies from the ruins of flattened villages in central Iran on Wednesday, and officials raised the death toll from a powerful earthquake to at least 500. The count was expected to rise even higher.
A 14-year-old girl was pulled out of the rubble alive and immediately asked if her family survived.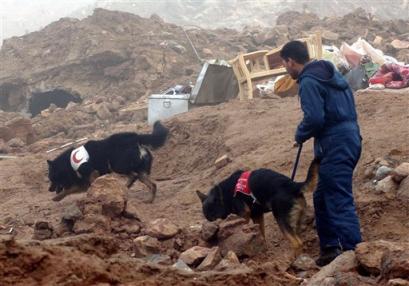 An Iranian Red Crescent member with his rescue dogs search the rubble of an earthquake damaged house in Dahoueieh on the outskirts of Zarand, a town 35 miles northwest of Kerman, Iran on Wednesday Feb. 23, 2005. A powerful earthquake shook central Iran on Tuesday, destroying villages, killing at least several hundred people and injuring more than 1,000, state-run television reported.[AP]

Teams were hampered by bad weather and the mountainous terrain, working in a cold, heavy rain after a night during which temperatures dropped below freezing.

Mohammad Javad Fadaei, deputy governor of Kerman province, said more bodies had been discovered. "The death toll is now 500, and there's a possibility that the figure will increase," he told The Associated Press. At least 900 people were injured.

Many survivors huddled in tents, trying to escape the chill, after the magnitude 6.4 struck early Tuesday, damaging some 40 villages with a combined population of 30,000 people and leaving many homeless. Rescue workers were still digging out survivors and bodies in the three most isolated villages.

In Hotkan, shouts of "God is great" echoed in the ruined village after rescuers pulled a girl from under the rubble of a destroyed mud house on Wednesday.

Looking dazed and confused, 14-year-old Zehra Hosseini cried as rescuers pulled her out.

"Where are my father and mother, brother and sister? They must be alive," she shouted. The rescuers told her they didn't find any other survivors in that same area, but she didn't appear to hear them.

Earlier in the day, Zehra Mirzaei, 18, was pulled out of the ruins and looked around what was left of her village: piles of dirt and stone.

"This is not my village, this is not Hotkan — I wish I had died with the others," she said, beating her head and chest in grief.

Search efforts also continued in Sarbagh and Dahoueieh, which rescue workers had the most difficulty reaching in the hours after the quake hit. In Dahoueieh, every building except a mosque with a golden dome had collapsed. At least 80 percent of the buildings in Sarbagh were leveled.

Iran's supreme leader Ayatollah Ali Khamenei expressed his "deep grief and sorrow" over the deaths and offered his condolences to the victims' families, urging rescue workers to speed up their efforts.

The Iranian government has so far not asked directly for international help.

The Iranian Army said a crisis center has been established to assist with relief and that a number of aircraft had been used to fly aid in from Tehran.

The quake was centered on the outskirts of Zarand, a town of about 15,000 people in Kerman province about 600 miles southeast of the capital Tehran. It struck a region only 150 miles from Bam, site of a devastating earthquake in December 2003 that killed 26,000 people and leveled the historic city.

Though comparable in strength to the 6.6-magnitude Bam quake, Tuesday's quake hit a more sparsely populated area and was centered far deeper — some 25 miles compared with six miles for Bam — limiting the damage.

Still, the tiny villages that dot the mountains — most of them made in fragile mud brick — were hard hit. "I lost everything. All my life is gone," sobbed Asghar Owldi, 60, his face bandaged. His wife and two children were killed.

Iran is located on seismic fault lines and is prone to earthquakes. It experiences at least one slight earthquake every day on average.




Today's Top News
Top World News

Vice-governor loses job for coal mine accident




Bidding starts on high-speed railway




New rules regulate petitioning




Chirac calls on EU to lift arms embargo




Thousands protest Bush visit to Germany




Khatami to Bush: Iran allows no meddling