Vice-governor loses job for mine accident
By Fu Jing (China Daily)
Updated: 2005-02-24 02:54
The Chinese cabinet yesterday suspended the job of a vice-governor of Liaoning Province due to the deaths of 214 miners in a huge gas explosion last week.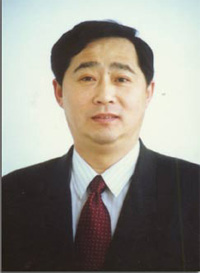 Liu Guoqiang [file/Xinhua]

Liu Guoqiang, 52, became the first ministerial government official to lose his job since the State Council implemented the "take the blame and resign" system to help check workplace injuries and deaths.

"Take the blame and resign" is an initiative introduced by the central government in a State Council regulation in April 2004 which puts responsibility for major accidents on officials in charge.

Referring to Liu's suspension from office, Huang Shengchu, president of China Coal Information Institute, told China Daily: "It's an unprecedented decision."

He also said the suspension will "shock some local officials and coal mine owners," who lack in work safety awareness and are preoccupied with earning money.

At the State Council's executive meeting held yesterday and chaired by Premier Wen Jiabao, the State Council also made an immediate decision to elevate its vice-ministerial-level work safety administration to become a cabinet-level department.

The State Administration of Work Safety was endorsed as the State General Administration of Work Safety. Under the new ministerial-level department, a special bureau will be set up to govern coal mine safety.

But the State Council did not appoint an administrator for the new department yesterday.

The promotion has shown the central government's commitment to curbing the worsening mine safety problems, Huang said.

"The news is encouraging," said Huang, adding that the decision came within a short time.

At the meeting yesterday, Premier Wen urged officials, coal mine owners and governments to stay on top of work safety issues while showing the government's concern for people's lives.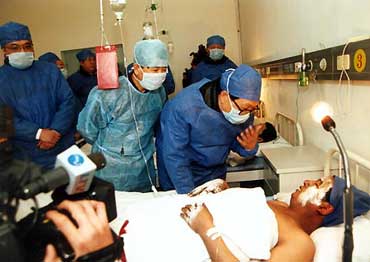 State Councillor Hua Jianmin, who is leading a State team at Fuxin, Liaoning Province, visits surviving miners of the explosion in hospital on February 15, 2005. [newsphoto]
Three accidents
The meeting said the central government's decision partly resulted from three major coal mine accidents since last winter. They happened in Shaanxi, Henan and Liaoning provinces, killing more than 400 miners.
In the Sunjiawan Coal Mine in Liu's province, 214 miners were confirmed dead when search ended on Tuesday. Only 29 miners were rescued. The toll is the largest loss of life in a mining accident since the founding of the People's Republic of China in October 1949.
In January, the State Council gave an administrative warning to Vice-Governor of Henan Province Shi Jichun, citing him as responsible for a gas explosion at Daping Coal Mine in Xinmi, Henan Province, on October 20, 2004, which killed 148 people.
The State Council also decided to send a high-level group to Liaoning to probe the major gas explosion in the province, where Liu was in charge of work safety.
The team is led by Li Zhilun, minister of supervision.
The central government also decided yesterday to invest 3 billion yuan (US$361 million) this year to improve work safety in key State-owned coal mines.
Frequent smaller accidents have put the effectiveness of the country's coal mine security system into question.
In 2004 alone, more than 6,000 people were killed in mine accidents across China.
Industry insiders said the new measures will improve supervision over work safety, which is grim.
(China Daily 02/24/2005 page1)
Today's Top News
Top China News

Watchdogs go after malignant red dye




Vice-governor loses job for mine accident




Bidding starts on high-speed railway




Chirac calls on EU to lift arms embargo




Nation seeks energy efficient buildings




Clinton hails China AIDS progress, offers Help