US citizen accused of plotting to kill Bush
(Agencies)
Updated: 2005-02-23 09:31
A Virginia man, arrested and held in Saudi Arabia, has been returned to the United States to face charges of supporting al Qaeda, and was accused of plotting in 2002 and 2003 to kill President Bush, court documents made public on Tuesday said.
Between September 2002 and June 9, 2003, while he was in Saudi Arabia, Ahmed Omar Abu Ali discussed with an unidentified co-conspirator two options for assassinating Bush, according to the 16-page indictment handed up by a federal grand jury in Alexandria, Virginia.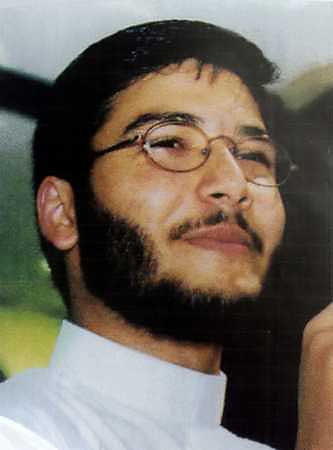 U.S. citizen Abu Ali has been returned to the U.S. to and was charged on February 22, 2005 with providing support to al Qaeda in an indictment that included allegations of a plot to kill President George W. Bush. Ali, seen in this undated family photo, made an initial appearance in U.S. District Court in Virginia but did not enter a plea. [Reuters]

They talked about "an operation in which Abu Ali would get close enough to the president to shoot him on the street and ... an operation in which Abu Ali would detonate a car bomb," the indictment said.

The six-count indictment said Abu Ali received a religious blessing from another co-conspirator to carry out the plan to assassinate Bush.

The indictment charged Abu Ali with providing material support and resources to terrorists, intending they would be used to assassinate Bush.

The indictment also said Abu Ali meant to become a planner of terrorist operations like Mohamed Atta, the Sept. 11, 2001, hijacker accused of being the group's ringleader, and Sept. 11 accused mastermind Khalid Sheikh Mohammed.

The indictment was filed on Feb. 3. Abu Ali, who last resided in the United States in Falls Church, Virginia, was arrested by Saudi officials on June 9, 2003, and had been held in that country.

He arrived back in the United States late on Monday. A court spokesman in Virginia said Abu Ali appeared before a magistrate judge on Tuesday, and was ordered detained until another hearing on Thursday.

If convicted on all of the charges, Abu Ali faces a maximum sentence of 80 years in prison. He was charged with conspiracy to provide material support to terrorists and to al Qaeda, and receiving funds and services from al Qaeda.

U.S. Attorney Paul McNulty said, "After the devastating terrorist attack and murders of September 11, the defendant turned his back on America and joined the cause of al Qaeda.

"He now stands charged with some of the most serious offenses our nation can bring against supporters of terrorism," McNulty said in a statement.

In July, the parents of Abu Ali filed a lawsuit and said U.S. government officials had their 23-year-old son detained unlawfully in Saudi Arabia for more than a year without any charges. That case is pending before a federal judge in Washington.

According to the lawsuit, Abu Ali graduated in 1999 as valedictorian of his high school class in Virginia. At the time of his arrest in Saudi Arabia, Abu Ali was a student at a Saudi university.

The indictment said that in or around September 2002, Abu Ali advised a co-conspirator whom he had met on previous travels to Medina, Saudi Arabia, of his interest in joining al Qaeda.

It said Abu Ali met with several co-conspirators between September 2002 and June 9, 2003, and told them he was committed to furthering al Qaeda objectives.

The indictment said Abu Ali then received cash payments from an individual associated with al Qaeda to purchase a laptop computer, a cellular telephone and books.

It said the co-conspirators discussed with Abu Ali how he could support al Qaeda, including conducting a terrorist operation and establishing a cell in the United States.

Abu Ali was accused of receiving training in Saudi Arabia in weapons, explosives and document forgery.




Today's Top News
Top World News

Beijing pushes for charter cargo flights across Straits




Bush threatens Europe on ending arms ban




Goliaths compete for nuclear plant pact




Strong quake strikes Iran, over 400 dead




N. Korea willing to return to nuclear talks




Medics venture into twilight zone