Bush threatens Europe on ending arms ban
(Agencies/Xinhua)
Updated: 2005-02-23 08:47
US President Bush warned Tuesday in Brussels that US Congress might retaliate if Europe revokes the 15-year arms ban on China.
Bush said lifting the embargo "would change the balance of relations" between the Chinese mainland and Taiwan and "that's of concern." But French President Jacques Chirac and German Chancellor Gerhard Schroeder said the ban should go. "It will happen," Schroeder said.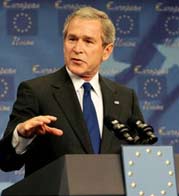 U.S. President George W Bush gestures during a media press conference at the EU Council building in Brussels, Tuesday Feb. 22, 2005. [AP]

Before Bush's trip to Europe, US Congress sent a clear warning to Europe about lifting the arms embargo on China. In a 411-13 vote, the House said revoking the ban would endanger both Taiwan and U.S. troops stationed in Asia and would harm U.S. relations with Europe.

Hinting at trade retaliation, the House resolution noted that the United States and Europe cooperate on the governmental and industrial level. It said lifting the embargo "would necessitate limitations and constraints in these relationships that would be unwelcome on both sides of the Atlantic."

Bush said he understands that the Europeans are working on a way to address U.S. worries about allowing China to modernize its military with arms and communications, intelligence and surveillance equipment that would give Beijing an edge over Taiwan.

"They know the Congress is concerned," Bush said. "And so they'll try to develop a plan that will ease concerns. Now, whether they can or not, we'll see."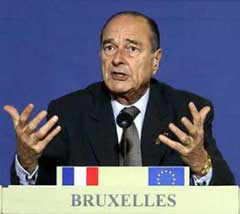 French President Jacques Chirac speaks at a press conference at the European Council in Brussels February 22, 2005. [Reuters]

Chirac said the European Union intends to end its ban on arms sales to China.

"With regard to China, Europe intends to remove the last obstacles to its relations with this important country," Chirac told a news conference just before all 25 EU leaders began a summit with Bush.

He said the embargo was no longer justified but the EU would ensure its abolition did not change the strategic balance in Asia. He noted that U.S. allies Canada and Australia did not have such restrictions on arms sales to Beijing.

To allay US worries, Chirac said security guarantees could be worked out.

China: Lifting arms ban hurts no third parties

Chinese Foreign Ministry spokesman Kong Quan maintained that the European Union's plan to lift its arms embargo on China won't infringe upon the interest of third parties, and that the lifting of the embargo is "irrelevant" to "the present situation of the Asia Pacific region."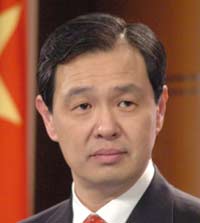 Kong Quan [filephoto]

Kong told a regular press conference that the arms embargo, put in place in 1989, is a "sequel of the cold war," and the lifting of it is "conducive to a sound and smooth development of the China-EU relations based on equality and reciprocity."

"The bilateral relations enjoy a smooth development at present, while the two sides are gradually solving historical problems between them," Kong said. He said he hopes that the United States will temporize to the trend instead of setting obstacles.

Kong said the lifting of embargo is actually "the lifting of political discrimination on China, which won't lead to China to buy a large amount of weapons." China, he said, will "pursue peaceful development and a defense policy that is defensive in nature," and will be "no menace to any country."

He said, "China is not the obstacle to the world peace and stability but an active strength to maintain it."




Today's Top News
Top China News

Bush threatens Europe on ending arms ban




Beijing pushes for charter cargo flights




Goliaths compete for nuclear plant pact




Strong quake strikes Iran, over 400 dead




US citizen accused of plotting to kill Bush




Medics venture into twilight zone