N. Korea willing to return to nuclear talks
(Agencies)
Updated: 2005-02-23 02:16
North Korean leader Kim Jong-Il has said his country is willing to return to nuclear disarmament talks despite an earlier threat to withdraw from negotiations, Chinese officials reported.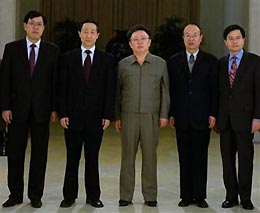 North Korean leader Kim Jong Il, center, poses with Wang Jiarui, second from left, head of the Chinese Communist Party's International Department, for photos in Pyongyang, North Korea, Monday, Feb. 21, 2005. [AP]

Less than two weeks after the North announced it had nuclear weapons and was snubbing the talks indefinitely, Kim told Chinese envoy Wang Jiarui he remained committed to a nuclear-free Korean peninsula.

"He hopes that the international community can understand that in the February 10 declaration, the North Korean side never opposed the six-party talks and that the DPRK would be willing to return to the six-party talks at an early date, if the conditions are right," Wang told Chinese television.

"General Secretary Kim Jong-Il made it very clear that to maintain a nuclear-free Korean peninsula and resolve the issue through dialogue, this goal and this position had not changed," he said.

Wang, who returned to Beijing Tuesday after talks with Kim, did not specify what the conditions were. North Korea has previously demanded one-on-one talks with the United States, which favours a multilateral approach.

Kim expressed hope that Washington would "show trustworthy sincerity and move", the Korean Central News Agency (KCNA) reported.

The United States said Tuesday it wanted North Korea to return to the six-party talks, which also include South Korea, Russia, Japan and China.

"We've been clear, we want the North Koreans to return to the six-party talks," said White House spokesman Trent Duffy, who did not comment on Pyongyang's request for unspecified "conditions" to resume negotiations.

US Secretary of State Condoleezza Rice later spoke with Chinese Foreign Minister Li Zhaoxing on the telephone, agreeing that the talks should resume "as early as possible", China's official Xinhua news agency said.

Japanese Prime Minister Junichiro Koizumi urged Pyongyang to return to the table unconditionally while the Russian foreign ministry welcomed Kim's comments, saying the talks were the "shortest route" to resolving the nuclear issue.

South Korean Foreign Minister Ban Ki-Moon said the gesture offered hope that negotiations could resume, adding that the February 10 statement "should be taken as rather unverified unilateral assertion" intended as part of North Korea's typical "brinksmanship."

During his three-day mission to Pyongyang, Wang delivered a verbal message to Kim from Chinese President Hu Jintao.

Hu told his counterpart "it is in the fundamental interests of the Chinese and DPRK sides to maintain the stand of realizing the denuclearization of the Korean peninsula," KCNA said.

Following its successful diplomacy, Beijing called on North Korea and the United States to seize the opportunity.

"We think all sides should make more efforts to show goodwill, flexibility and sincerity," said foreign ministry spokesman Kong Quan.

"But the key thing is that the main parties, North Korea and the United States, should make greater efforts."

The United States and North Korea have been locked in a stand-off since October 2002 when Washington accused Pyongyang of operating a secret program based on highly-enriched uranium, violating a 1994 arms control agreement.

North Korea denied the allegations. However it responded by expelling UN nuclear inspectors, re-starting a mothballed nuclear reactor and extracting weapons-grade plutonium from spent fuel rods.

China has brokered three rounds of six-party talks to resolve the issue. However North Korea snubbed a fourth round last September, citing Washington's "hostile policy".

Analysts said China was unlikely to have offered Kim any financial inducements, but instead would have made clear that sanctions by some countries were a stark reality.

"I suspect that China held out the prospect that some of the powers might take limited sanctions, that Japan and South Korea are serious and the situation would deteriorate," said Brian Bridges, a North Korea expert at Lingnan University in Hong Kong.

"I suspect China also passed the message on that the US will not respond with concessions. They won't do anything until they get back to the negotiating table."

Analysts said the likely outcome would be a return to the six-party format during which the United States and North Korea would hold bilateral discussions.




Today's Top News
Top World News

Bush threatens Europe on ending arms ban




Beijing pushes for charter cargo flights




Goliaths compete for nuclear plant pact




Strong quake strikes Iran, over 400 dead




US citizen accused of plotting to kill Bush




Medics venture into twilight zone