Lantern fest hails dumpling arrival
By Wu Chong in Beijing, Li Wenfang in Guangzhou (China Daily)
Updated: 2005-02-23 02:07
Despite widespread rain and snow, the Lantern Festival which begins today is still warmly welcomed across the country, bringing the long celebration for the Chinese New Year to an end.
All shops and stores respond that the sales of sweet dumplings, a traditional food made of glutinous rice flour, usually served in soup, has been surging in the past three days.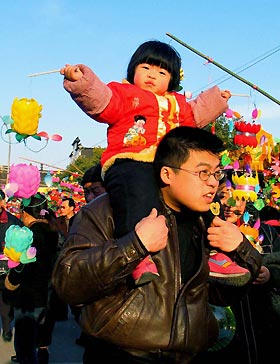 A little girl buys two strings of lanterns at the Fuzi (Confucius) Temple Lantern Market in Nanjing, the capital of Jiangsu Province in East China on Monday. The traditional Lantern Festival falls today this year. [newsphoto]

Daoxiangcun, a famous local producer for cakes in Beijing, said its Andingmen outlet sold about 6,000 kilograms of the stuffed dumplings just since last Saturday, according to the Beijing Youth Daily.

Yesterday witnessed the peak of the purchase of sweet dumplings, which ranges in a wide variety of flavours and packages.

"We have sold 50 boxes ( 500 kilograms) within six hours," said Huang Junyun, from one of the Ito Yokado supermarkets in Beijing, who is in charge of Sinian, a famous food brand from Henan Province.

Chi Xiangdong, a manager with Daoxiangcun, a household brand in Beijing for traditional food, was quoted by the Beijing Youth Daily as saying that his company produces 80 to 100 tons of the stuffed dumplings each day this year, up 15 per cent from last year.

"But it still fails to meet the demand," he said.

Unpackaged sweet dumplings tops many family's purchase list because of its lower price.

And dumplings in delicate packages and with an astounding price are also hot as a number of people or companies choose them as good festive gifts.

Wang Jing, a company official, said she had bought 10 small boxes of sweet dumplings on behalf of the managing board of her firm for all the staff.

Although producers rack their brains to market more new flavours every year, sesame flavoured dumplings are still most people's first choice.

This year, a sugar-free type of sweet dumpling is highly favoured since it meets the needs of the elderly, diabetics and stylish people who fancy keeping off weight.

Many families also choose to have a big dinner tonight in restaurants, but the total number is obviously decreased over that on New Year's Eve.

The Beijing-based Xinhexuan Restaurant said all of its 50 tables were booked on the Lunar New Year's Eve, but for the festival, only two-thirds were taken.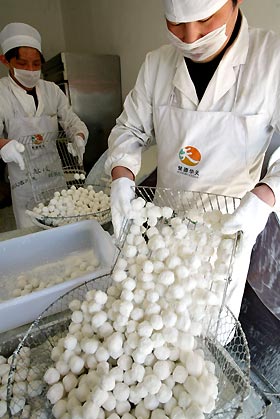 Cooks in Beijing prepare sweet dumplings for the festival. [newsphoto]
Traditions to celebrate the festival, which can be traced to more than 2,000 years ago, also include lantern fairs, lion and dragon dances, fireworks displays and riddle games.
In South China's Guangdong Province, lanterns in various colours and shapes, with the main ones featuring the diligence of the rooster, are lining up the path from the southern gate to the peak of the Baiyun Mountain in Guangzhou.
While in most northern cities, ice lanterns are to take place of paper or plastic lanterns that are popular in the south to play a major role in the celebration.
Foreigners living in China are also happy to join in the final climax for the spring festival.
In Shenzhen, about 500 foreigners and overseas Chinese attended a grand gala in the Folk Cultural Village, a famous tourist attraction in the city, last night.
Today's Top News
Top China News

Beijing pushes for charter cargo flights across Straits




Bush threatens Europe on ending arms ban




Strong quake strikes Iran, over 400 dead




N. Korea willing to return to nuclear talks




Al-Jaafari likely to be next Iraqi PM




Does SARS virus still exist in the wild?