Brown announces export push in China -- for English
(Agencies)
Updated: 2005-02-22 16:55
Exporting the English language and methods of learning could soon become one of Britain's top foreign currency earners, with China viewed as the key market, British finance minister Gordon Brown said.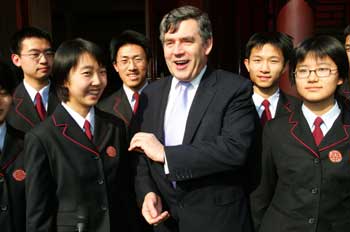 Britain's Chancellor of the Exchequer Gordon Brown chats with Chinese middle school students during his visit to China's capital Beijing February 21, 2005. Brown said on Monday that orderly capital account liberalisation was the way forward for modern economies, including China. [Reuters]

In the past five years, British export earnings through education have almost doubled to more than 10 billion pounds (US$19 billion) a year, Brown announced during a visit to China.

This was already about one percent of Britain's entire gross domestic product (GDP), and four percent of its exports, and the figures were still growing fast, Chancellor of the Exchequer Brown said.

"On current trends, by 2020, education could amount for more export earnings (to Britain) than financial services," Brown said in a statement in Beijing.

By 2020, education could contribute more than 50 billion pounds a year to the country's economy, not far short of two percent of total GDP.

Much of this growth would come through selling perhaps the country's most lucrative birthright -- the English language -- with China a key market thanks to its combination of a huge thirst for English and massive numbers of potential pupils.

Currently, more Chinese students learn English than British ones, while an estimated 300 million Chinese already speak the langauge, said Brown, who left Beijing for Shanghai Tuesday.

"In 20 years' time, the number of English speakers in China is likely to exceed the numbers of speakers of English as a first language in all of the rest of the world," Brown noted.

This was "a huge opportunity for Britain", said the finance minister, unveiling a series of measures to help the country cash in on the craze for speaking its language.

Among these is a plan to "twin" every school and college in England with a parallel education establishment overseas in the next five years, while teaching schemes such as websites run by cultural organisation the British Council will be expanded.

For China, in particular, its students attending British universities will now be able to stay on and work for a year after completing their courses, Brown announced.

The deal -- reciprocated for British students in China -- is aimed at helping British universities beat off stiff competition from US and Australian establishments in attracting valuable, fee-paying Chinese students.

By 2020, the overseas sales of British educational products such as books and computer packages could be worth 10 billion pounds a year to the country's economy, Brown predicted.

His idea is backed up by a British Council study released in December, which said that by 2015 up to two billion people could be studying English worldwide.

However, that report, based on computer models of future demand to learn the language, said that by 2050 the boom could be over, given that so many people would speak it by then.

The chancellor flew into Beijing on Monday for talks with Premier Wen Jiabao, Finance Minister Jin Renqing and others, centred largely on bilateral trade issues.

Brown, whose country currently holds the rotating presidency of the Group of Eight (G8) industrialised nations' club, also raised the issue of China's policy of fixing its currency, the yuan, at a pegged rate against the dollar.

He heads to the southern economic powerhouse city of Shenzhen on Wednesday before flying home from adjoining Hong Kong.




Today's Top News
Top China News

Brown announces export push in China -- for English




Strong quake hits Iran, almost 400 dead




N. Korea renews hope for six-party talks




Chirac, Bush discuss China arms embargo




Income gap grows wider in Beijing




Chalabi, Al-Jaafari to seek Iraq PM post