Elephant art fetches jumbo price in Thailand
(Agencies)
Updated: 2005-02-22 12:27
It's rare enough when living artists fetch outrageous fortune for their work. When those modern-day Matisses are Thai elephants, however, they charge into the record books.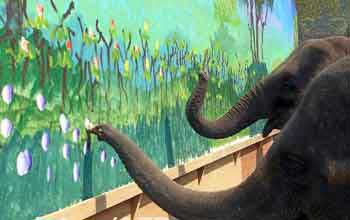 Elephants paint on the canvas during new Guinness record attemp of most expensive paint by elephants at Maesa elephant camp in Chiang Mai province northern Thailand. [AFP/File]

Eight elephants in northern Thailand have painted their way into the Guinness Book of World Records after an art lover living in the United States shelled out a jumbo 1.5 million baht (39,000 dollars) for their canvas creation -- the highest price ever paid for elephant art.

The four-legged artists in residence, four males and four females, trained for years at the Mae Sa Elephant Camp near the northern city of Chiang Mai under the tutelage of prominent painters before setting to work on their masterpiece, the camp's director of operations said.

"At first we didn't aim to sell this picture but we had a deep desire to show the world what Thai elephants can do," Anchalee Kalmapijit told AFP.

"They can draw abstract or realistic paintings. They are the only elephant group in the world who can do this," she added.

When a Thai businesswoman and elephant lover in the United States offered to buy it sight unseen, the Guinness officials expressed interest and their staff were on hand at Mae Sa to confirm the new record, Anchalee said.

With their mahouts, or handlers, on their backs or at their sides, the beasts held brushes with their trunks and gently applied dollops of acrylic paint on the huge canvas measuring six by 2.4 metres (20 by eight feet).

Human artists drafted the large painting first and advised the mahouts and their charges on colour schemes and style.

The elephants remained tight-trunked about their artistic inspirations. But one glance at their record-breaking work, a pastoral landscape evocatively named "Cold Wind, Swirling Mist, Charming Lanna Number One," suggests impressionism, pointillism -- and a hint of the surreal.

Anchalee says the profits from the sale will be spent on care for the 78 elephants currently living at the camp.

More exhibits are planned, she said. After all, the pachyderm painters are in debt since the camp has spent more than nine million baht over four years of artistic training.

Thailand's total elephant herd population is nearly 5,000, with up to 2,000 of them in the wild. Experts warned last year that the wild population could be wiped out within 15 years if no action is taken.




| | |
| --- | --- |
| | |
| Milan fashion week | |

| | |
| --- | --- |
| | |
| Jay Chou in love with Taiwan No.1 beauty news anchor | |

| | |
| --- | --- |
| | |
| Zhang Ziyi as cover girl in US | |
Today's Top News
Top Life News

DPRK renews hope for six-party dialogue




Chirac, Bush discuss China arms embargo




Income gap grows wider in Beijing




Ministers stress Sino-UK co-operation




Economy cooling, price figures indicate




China vows to keep its environment clean