Barcelona and Chelsea top match
(Agencies)
Updated: 2005-02-22 11:06
The world's best soccer clubs face off this week in the second round of the Champions League.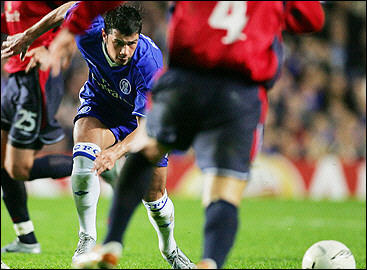 Chelsea striker Mateja Kezman has told Barcelona to expect a revitalised Chelsea in their upcoming Champions League clash at the Nou Camp. [AFP]

Clubs used to grabbing headlines, like Real Madrid, AC Milan and Manchester United, all share second billing to the week's premier match: FC Barcelona and Chelsea at Camp Nou, a Champions showdown anticipated since Dec. 17 when the Spanish league leaders were drawn to face the English leaders.

Wednesday's match has it all, with the 100,000-seat Catalan cathedral — arguably Europe's most famous soccer venue — as the backdrop. Europe's top club competition has taken a three-month break, but this week's return should be memorable.

On Tuesday, nine-time champion Real Madrid faces two-time winner Juventus, and five-time champion Bayern Munich takes on English champion Arsenal.

Also, American Landon Donovan and Bayer Leverkusen play Liverpool, while PSV Eindhoven, featuring U.S. midfielder DaMarcus Beasley, hosts Monaco.

On Wednesday, two-time champion Manchester United faces five-time winner AC Milan, defending champion FC Porto hosts Inter Milan, and Werder Bremen faces Lyon.

The teams resume their second-round series on March 8-9, with the club scoring the most goals over the two games advancing to the next round. The final is at Istanbul, Turkey, on May 25.

A former assistant at Barcelona, Chelsea manager Jose Mourinho won the Champions League last season with Porto. He has Chelsea playing the same kind of locked-down defense, and he's not ready to give up the title.

Mourinho has lost just three times at Chelsea — including Sunday's 1-0 loss to Newcastle in the FA Cup. Winger Wayne Bridge suffered an ankle injury and will miss Wednesday's game. Forward Damien Duff and defender William Gallas were limping late in the game.

Chelsea plays what Barcelona manager Frank Rijkaard has called a "very functional game." Workmanlike, the Blues rely on one of the best midfields and defenses in Europe, but have shown little flare since the loss of Dutch winger Arjen Robben to injury.

Seven points ahead of Real Madrid atop the Spanish league, Barcelona may have Europe's most flowing offense, led by striker Samuel Eto'o — Africa's player of the year — and Ronaldinho and Deco. Trying to shut them down falls to central defender John Terry and defensive midfielder Claude Makelele.

Since defense usually wins over attacking soccer, Chelsea is probably a slight favorite. Both clubs are starved for major trophies. Barcelona has won the European championship only once — 1992 — and Chelsea has never won it.

"(Chelsea) are dangerous because they are being challenged to do great things," Rijkaard said. "You can see they're hungry. So all this makes them one of the best teams in Europe."




| | |
| --- | --- |
| | |
| NBA All-Star: East 125-115 West | |

| | |
| --- | --- |
| | |
| Pistons beat 76ers 93-75 | |

| | |
| --- | --- |
| | |
| Football For Hope | |
Today's Top News
Top Sports News

DPRK renews hope for six-party dialogue




Chirac, Bush discuss China arms embargo




Economy cooling, price figures indicate




Strong earthquake in Iran kills at least 80




Income gap grows wider in Beijing




Ministers stress Sino-UK co-operation