Chirac, Bush discuss China arms embargo
(Agencies)
Updated: 2005-02-22 08:58
French President Jacques Chirac and US President George W. Bush appeared to narrow transatlantic differences over EU plans to lift an arms embargo on China, Reuters reported.
A senior U.S. official said European assurances that a code of conduct would ensure arms sales to Beijing grew neither in quantity or quality could provide a satisfactory resolution if they were fleshed out.
"So this was a good situation, but I don't want to start talking about compromises because that would be misleading at this point," the official said.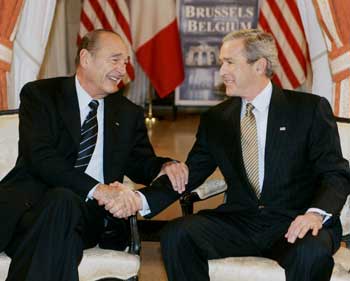 French President Jacques Chirac (L) greets U.S. President George W. Bush in Brussels, February 21, 2005. Bush met with Chirac for a dinner on Monday during his four-day visit to Europe. [Reuters]
The issue was one of the most contentious during what the official described as an "extremely cordial" dinner and "one of their best meetings and best extended discussions ever, in fact," AFP cited a US official who declined to be named as saying.
Asked what made it such a good meeting, the official said: "It covered a great deal of ground and it did so very efficiently, without set piece speeches, long, turgid presentations of positions or reading of points."
In addition to discussing Iran's nuclear program, the Middle East peace process, their joint determination to get Syria to end its military presence in Lebanon, and Iraq's future, the two leaders discussed the arms embargo.
"The president explained the problems the United States has with the European Union's advanced discussion of lifting the arms embargo," said the official. The exchange was not "a polemic or an argument."
"It became clear that President Chirac understood the American problems," and the two leaders discussed how the European Union might allay some of those concerns, he said.
But neither leader dwelled on their painful break over the March 2003 invasion of Iraq, when Chirac deeply angered Washington by rallying global opposition to the war.
"The United States is not looking to refight the battles of 2003. That debate is a specific debate which will be had by historians," the anonymous official said. "I had no sense that the French were interested in re-fighting that."
The official said he had the "strong sense" that France wanted to be "helpful" in the wake of January 30 elections in Iraq.
US 'wrong to pick a fight' with EU on China: Mandelson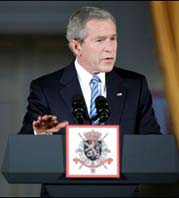 US President George W. Bush delivers a speech at the 'Concert Noble' hall in Brussels, 21 February 2005, during his three-day stay in Belgium. [AFP]
The United States would be "wrong to pick a fight" with Europe over plans to life an arms embargo on China, EU Trade Commissioner Peter Mandelson said ahead of an EU-US summit in Brussels.
Speaking on BBC radio, Mandelson -- who is close to Prime Minister Tony Blair -- said there was "increasing common ground between Europe and America" on a range of issues.
But he acknowledged that other sources of potential division remain.
"The tricky ones will be over Iran, the China arms embargo, matters to do with the future of NATO," Mandelson said Monday.
"I think there is a desire on both sides to make Iraq work" in the wake of the January elections that put a new government in place in Baghdad, he said.
"There is strong cooperation on Afghanistan. I think we are all on the same page as far as the Middle East peace process is concerned, and I think there is also a useful dialogue on climate change as well."
But on lifting the EU arms embargo on China, the trade commissioner said: "I think Europe should do it -- and I think the (Bush) administration would be wrong to pick a fight with Europe over this which it can't actually win."
Today's Top News
Top World News

DPRK renews hope for six-party dialogue




Chirac, Bush discuss China arms embargo




Income gap grows wider in Beijing




Ministers stress Sino-UK co-operation




Economy cooling, price figures indicate




China vows to keep its environment clean