Skater Wang crowned World Cup champion
(China Daily)
Updated: 2005-02-22 08:46
The Essent ISU World Cup Speed Skating series 2004/05 has ended with the World Cup Final at the Thialf Ice Stadium in Heerenveen, Netherlands, played out before a large crowd.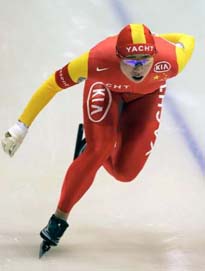 Chinese skater Manli Wang races during her 1000 meters race at the World Cup Speed Skating finals at the Thialf stadium in Heerenveen, the Netherlands February 19, 2005. [Reuters]

China's defending overall winner Wang Manli ranked top again after the women's 500m final match.

Wang finished third in Sunday's race by 38.45 seconds, while Anzhelika Kotyuga from Belarus won by 38.18 seconds ahead of Sayuri Yoshii of Japan, whose time was 38.44.

Behind Wang, who won with 880 points, Kotyuga finished second with 714 points, and after a fourth place today, Japan's Tomomi Okazaki with 645 points was the best of the four Japanese ladies competing .

In the men's 500 meters it was the overall top three that finished first second and third. Jeremy Wotherspoon was the only skater to break the 35-second barrier (34.96). Joji Kato finished in second (35.02), and Dmitri Lobkov of Russia finished third (35.11). In the overall rankings, Wotherspoon won with 788 points, Kato finished in second place with 608 points, and Lobkov was third with 543 points.

Yu Fengtong from China was the happy winner of the men's 100 metre races in 9.52. His win secured him victory in the World Cup men's 100m final rankings. Yuya Oikawa of Japan finished second overall, followed by Mark Nielsen of Canada.

The men's 1,500 metres concluded the Essent ISU World Cup season of 2004/05. Mark Tuitert of the Netherlands won the distance in 1:46.57, ahead of compatriots Simon Kuipers, who skated a personal best of 1:47.02 and Erben Wennemars, who with 1:47.52 was 0.02 seconds faster than Beorn Nijenhuis. Three Dutch skaters also make up the final ranking in the Essent ISU World Cup. Tuitert won with 361 points, Wennemars with 322 and Nijenhuis with 300.




| | |
| --- | --- |
| | |
| NBA all-star game in Denver | |

| | |
| --- | --- |
| | |
| Pistons beat 76ers 93-75 | |

| | |
| --- | --- |
| | |
| NBA All-Star: East 125-115 West | |
Today's Top News
Top Sports News

DPRK renews hope for six-party dialogue




Chirac, Bush discuss China arms embargo




Income gap grows wider in Beijing




Ministers stress Sino-UK co-operation




Economy cooling, price figures indicate




FM: US-Japan statement on Taiwan wrong