N. Korea renews hope for six-party talks
(Xinhua)
Updated: 2005-02-22 02:58
PYONGYANG: Top leader of the Democratic People's Republic of Korea (DPRK) said yesterday the country is willing to return to six-party talks when conditions are ripe.
Kim Jong-il, general secretary of the Central Committee of the Workers' Party of Korea, told a visiting senior Chinese official that he wishes all sides will take enough action with sincerity.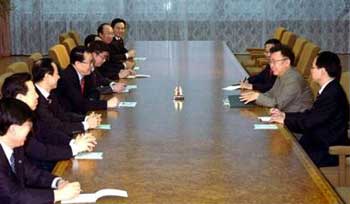 North Korean leader Kim Jong Il, second from right, talks with Li Changchun, fourth from left, a senior official of China's Communist Party, during a meeting in Pyongyang, North Korea in this September 12, 2004 file photo. Kim told a visiting Chinese envoy that his government will return to nuclear disarmament talks if the United States shows 'sincerity,' North Korea news agency reported February 22, 2005. [AP]
Wang Jiarui, head of the International Department of the Communist Party of China, told Kim that China wishes the six-party discussions on the nuclear issue of the Korean Peninsula will resume as early as possible.
Kim said the DPRK still persists in its stance on a nuclear-free Korean Peninsula and in peaceful resolution of disputes through dialogue.
"The DPRK has never opposed the six-party talks and nor will it withdraw from the talks," Kim told Wang, who brought him a message from Hu Jintao, general secretary of the Central Committee of the Communist Party of China (CPC).
Hu told Kim that a peaceful solution to the nuclear issue and to the DPRK's reasonable concerns via the six-party talks conforms to the fundamental interests of both countries.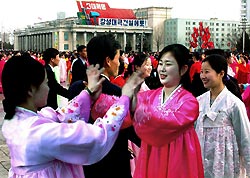 People of DPRK dance in Pyongyang February 16, 2005 in this picture released in Tokyo February 17, 2005. [reuters]

The DPRK announced on February 10 it would indefinitely postpone the six-party talks, adding that the unchanged hostile US policy towards the DPRK is the direct reason.

Kim highly values the efforts of the CPC and the Chinese Government on maintaining peace on the Korean Peninsula.

Wang emphasized Chinese support for denuclearization of the peninsula, which is in the best interests of the DPRK people and for Chinese and regional security.

"We wish all sides will resolve the nuclear issue through dialogue and pay close attention to the reasonable concerns of the DPRK," Wang said.

They reassured each other of the long-standing friendship of the two parties and two countries.

Wang is winding up his four-day visit to the DPRK today. He held talks with Kim Yong-nam, president of DPRK's Presidium of the Supreme People's Assembly, soon after his arrival in Pyongyang on Saturday.

Raft search

The DPRK yesterday allowed the Republic of Korea (ROK) to conduct search operations in its territorial waters for a missing South Korean raft, the South Korean Yonhap News Agency reported.

The raft, with four South Korean people on board, lost contact with South Korean maritime authorities as it sailed from Russia's far eastern port of Vladivostok to Niigata, a Japanese port. It was on an expedition to follow a sea route dating from an ancient Korean kingdom.

South Korea's maritime police dispatched a light plane to search the raft in the East Sea (the Sea of Japan), about 290 miles northeast of Dokdo, an island claimed both by South Korea and Japan as their own territory, Yonhap said.

(China Daily 02/22/2005 page1)




Today's Top News
Top China News

Strong earthquake in Iran kills at least 400




N. Korea renews hope for six-party talks




Chirac, Bush discuss China arms embargo




Income gap grows wider in Beijing




Ministers stress Sino-UK co-operation




Economy cooling, price figures indicate