Water shortages continue as storage rises
By Liu Weifeng and Li Jing (China Daily)
Updated: 2005-02-22 01:41
The Miyun Reservoir, the most important source of drinking water for the nation's capital, is witnessing rising water levels for the first time in the past five years. But the increase is a mere drop in the water-guzzling ocean that the nation's capital has become.
Miyun and Guanting, two major reservoirs in Beijing, have recorded rises of 120 million and 20 million cubic metres respectively year-on-year, according to a recent document released by the Beijing Water Authority.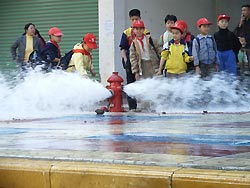 Children frolic around a burst water hydrant in Nanchang on December 14, 2004. [newsphoto]

And an unexpected "abundance of rain" last year went some long way to easing the problem, the authority's 2004 working report was cited as saying.

Increased reservoir levels are in part the result of the successful allocation and transfer of water from other minor reservoirs and neighbouring provinces.

A total of 130 million cubic metres (units) of water has been collected from six smaller reservoirs and transferred to Miyun, the main one.

A further 90 million units from Shanxi and Hebei provinces have also been pumped into it.

Beijing has 16 reservoirs in total, but the majority of them have dried up or been polluted over the years, leaving Miyun as the major source of drinking water supplies.

Last year, some 300,000 hectares of agricultural land requiring low water levels was cultivated in rural outskirts, and water consumption by the industrial sector achieved a "zero rise."

Precipitation, meanwhile, in 2004 was 539 millimetres, up 19 per cent on that of 2003.

"However, the rising reservoir levels are far from enough to fill the water shortage," said Yu Yaping, an official with the Beijing Water Authority.

A source close to the authority said Beijing consumed some 3.4 billion cubic metres of water last year 1.2 billion units for public and residential use, 1.2 billion for agriculture, 800 million for the industrial sector and 200 million on other uses.

"One noticeable point is that of the total 3.4 billion units consumed, 2.6 billion came from ground water," said the source.

This means surface water, which includes reservoirs and rivers, supplied no more than 800 million units.

Designed with a holding capacity of 4.3 billion units decades ago it was expected Miyun would be able to meet the drinking water demands of Beijing, Tianjin and Hebei Province.

But since 1982, "it has been dedicated to supplying Beijing alone," said Yu.

Liu Peng, an engineer with the authority's water conservancy office, told China Daily that a new round of water economy measures are to be taken this year.

To that end, the authority drafted a new conservancy guideline, which was turned into a municipal legislature after it won approval from the municipal People's Congress in January.

"It's expected to take effect during the first half of this year," said Liu.

At the same time, some newly-built public buildings and residential communities are required to have water recycling facilities.

The city consumed 140 million cubic metres of recycled water last year, representing a utilization rate of 28 per cent.

This year, the percentage of recycled water forming the city's total consumption is set at 30 per cent.

"It is set to achieve 50 per cent by 2008," said Liu.

Mayor Wang Qishan, announced in his working report submitted to the Third Session of the 12th Beijing Municipal People's Congress, the government is to lay 70 kilometres more of pipeline for recycled water this year.

Water prices are also set to rise by about 1 yuan (12 US cents) per cubic metre, said Liu.

Protecting water sources

The Beijing Municipal Committee of the China Democratic National Construction Association has also appealed to the municipal government urging more efforts to protect water sources, mainly located in the city's northern suburbs, especially in Huairou and Miyun districts.

The committee submitted a nine-page proposal to the Third Session of the 10th Beijing Municipal Committee of the Chinese People's Political Consultative Conference, suggesting that district governments with water sources be required to protect supplies and cut pollution, as opposed to focusing on economic growth.

"When evaluating the achievements of local officials in the districts, we should see whether they've done a good job in ensuring quality water to Beijing residents, rather than merely statistical growth in GDP," said the proposal.

(China Daily 02/22/2005 page5)




Today's Top News
Top China News

DPRK renews hope for six-party dialogue




Income gap grows wider in Beijing




Shootings stir Hong Kong concerns




Economy cooling, price figures indicate




Water shortages continue as storage rises




Bush tours Europe to rebuild relations