Brown: China's peaceful rise not a threat
(Agencies)
Updated: 2005-02-21 14:43

China has become a vital driver of global growth and protectionist voices raised against it are engaged in a 'sterile attempt to stop the clock', British Finance Minister Gordon Brown (R), seen with Chinese finance minister Jin Renqing in this file photo, is due to tell a Beijing audience later Monday, February 21. [AFP]

China has become a vital driver of global growth and protectionist voices raised against it are engaged in a "sterile attempt to stop the clock", British Finance Minister Gordon Brown is due to tell a Beijing audience later today.

Brown has arrived in Beijing for a trade-based visit and spoke of "a deepening and a widening" of cooperation between the two sides.

"I believe we can make enormous progress on tackling some of the challenges facing the global economy over the coming year," he told Finance Minister Jin Renqing.

China and Britain are this year the respective chairs of the Group of 20 leading economies and the Group of Eight (G8) industrialised nations' club.

Brown was also meeting Premier Wen Jiabao and central bank governor Zhou Xiaochuan before moving to the eastern metropolis of Shanghai on Tuesday and then heading home the next day via the southern boomtown of Shenzhen, next to Hong Kong, the former British colony.

In his first trip to China, Brown, who has served as Chancellor of the Exchequer under Prime Minister Tony Blair since 1997, was pushing Britain's trade interests in what is an increasingly important market for British business.

But with London currently chairing the G8, he was also delivering a broader message, warning doubters that the world's most populous nation is too integral a part of the globalised economy to ignore.

Protectionist voices in the West who want to shut out Chinese exports were engaged in a "sterile attempt to stop the clock", he was due to say in a key speech in Beijing later Monday.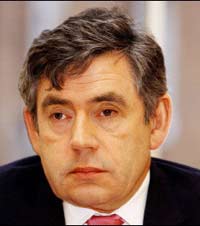 British Finance minister Gordon Brown. [File/AFP]

In the speech to the Chinese Academy of Social Sciences, Brown was to insist that the rise of China and other nations should be welcomed, not feared.

Globalisation "is now so rapid in its impact, so pervasive in its effects, that nations will rise and fall with speed depending upon their ability to adapt", he will say, according to extracts released to reporters.

China, the world's fastest growing major economy, is already a significant global economic force, being the biggest individual consumer of materials such as cement, steel and iron ore while being an important hi-tech innovator.

"China's re-emergence as a leader in scientific research should surprise nobody. The country that invented paper, printing, gunpowder and the compass is now producing two million graduates a year, including 50,000 computer science graduates a year," Brown will say in his address.

Some view the rise of China as "simply an economic threat to the advanced industrial economies" and sought protectionism against Chinese imports.

"But let us be clear that this is only a sterile attempt to stop the clock and resist inevitable change.

"China has been responsible for keeping the world economy growing as the advanced industrial economies went into a downturn.

"Indeed, without China, trade growth which slowed more than at any time in recent world downturns would have ground to a complete halt or gone into reverse," he said

In Shanghai and Shenzhen, Brown will focus more on specific Sino-British sectors of interests, such as tourism and financial services.

Analysts expect him to pressure his hosts about easier access to service-based markets such as insurance for British companies, an area in which the UK is keen to expand exports.

Britain had a trade deficit of just under 500 million pounds (950 million dollars) with China in 2003, the last set of full data available.

China joined the World Trade Organisation in December 2001 and has been gradually opening up its markets under the global trade club's rules but some critics complain this process has been too slow.

Although Brown's trip is essentially a trade mission, analysts say Chinese leaders are also keen to meet the man many tip as Britain's next leader.

Blair has promised to step down at the end of a third term in office if, as expected, his Labour Party wins a general election likely in May. Brown has long been seen as his successor.